The Evolution of the West African Telco Partnership: West Africa Com Interview with Robert Aouad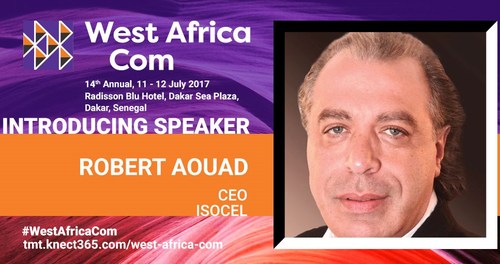 The countdown to
West Africa Com 2017
has well and truly started, with just less than two weeks until the annual event returns to Dakar for its fourteenth year.
West Africa Com is pleased to welcome Robert Aouad, CEO at Isocel Telecom, as a key speaker at the event. We talked with Aouad ahead of his speaking engagement to learn more about the merits of telecom partnerships in West Africa, Isocel's work in Benin, and how he sees partnerships evolving in the future.
Connecting Africa: We look forward to welcoming you to West Africa Com, where you will be taking part in a panel discussion: 'Powering up ecosystem partnerships to expand broadband infrastructure.' How important have partnerships become in recent years?
Robert Aouad: In our markets, if we plan to improve coverage and provide broadband access to the highest number of end users, particularly in hard to reach areas, infrastructure sharing is more than essential. To accomplish this, we have noticed that several regulators in West Africa strongly encourage infrastructure sharing. Indeed, to achieve reliable access to broadband, fiber optic remains the most suitable means, especially at the level of the transmission networks. We also know that the deployment of fiber optic networks is quite expensive and requires a much longer period of return on investment. For this reason, it makes a lot of sense for operators to share their infrastructure, which will reduce their costs and increase their profitability.
However, in practice, this is not yet the case and, unfortunately, many operators still do not look into infrastructure sharing. Some still prefer to duplicate deployments, especially for passive infrastructures, probably because they must think that by doing so, they would not benefit their competitors.
CA: What are some of the key merits of ecosystem partnerships as a way to expand network coverage?
RA: There are many benefits to partnerships between stakeholders because in order to better address unprofitable areas within broadband, it will be wiser to reduce both capex [capital expenditure] and opex [operational expenditure]. I think all passive infrastructure can be shared, such as high points, poles, ducts, etc. Ultimately, everyone will find an advantage -- operators, who will reduce their spending, and consumers, who will have access to the service at a lower cost.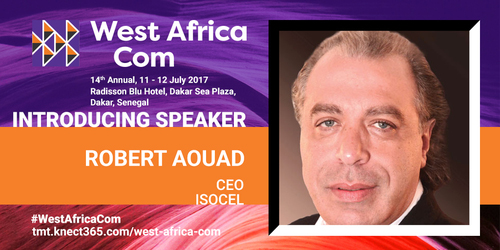 CA: What key challenges has the sector overcome, or still needs to overcome, to forge cohesive partnerships?
RA: For the time being, there is still some hesitation amongst players in the telecoms sector. Many think that by sharing their infrastructure, they would help their competitors. This is where the regulator must play its role and impose infrastructure sharing as part of the operators' licenses.
CA: How are partnerships able to effectively lower costs to the end user?
RA: Costs will be reduced automatically when several parties share the recurring and non-recurring charges when implementing and operating an infrastructure.
CA: What has Isocel been able to accomplish with regards to win-win partnerships in Benin?
RA: I can mention as a live example the contract that Isocel has established with the power provider in Benin. This deal allows us to use the concrete poles to deploy our access network using fiber optic cables. If we had to build these poles ourselves, we would have increased our capex considerably. In this case, as an operator, we make huge savings while creating a new source of income for the power company from the rental of several thousand poles.
CA:How do you see telecommunications partnerships evolving in the future?
RA: I believe that telecommunications partnerships will be further strengthened in the future, in particular because of the increasing profitability of the operators.

CA: What kinds of individuals and companies have you met, or are expecting to meet and engage with, at West Africa Com?
RA: I'm mostly expecting to meet other regional and international operators, from which Isocel will be able to acquire services, but also propose our own services to others, which they may also need within the West African region.
CA: Would you encourage others in the sector to attend West Africa Com? If so, why?
RA: Absolutely, because West Africa Com is the only annual event that brings together the largest number of players and decision-makers in the telecoms sector.
CA: What are you most looking forward to at this year's event?
RA: I'm looking forward to being better informed on market trends and the market's short-term evolution -- these topics will be showcased and discussed during a whole host of presentations and panels.
If you're interested in West African connectivity, why not learn from and engage with the architects at the forefront of the region's tech and telecommunications development at West Africa Com 2017? Find out more about the event here. Take a look at the West Africa Com packages and purchase your pass here.
Upcoming events:
West Africa Com 11 - 12 July, Dakar
Nigeria Com 20 - 21 September, Lagos
AfricaCom 6 - 10 November, Cape Town
Be part of the African tech and telco conversation here:
Twitter
Facebook
LinkedIn
Instagram
— Amy Turner, Digital Content Marketer, KNect365