Expanding Ecosystem Partnerships: An Interview with Africa Open Innovation's Mactar Sy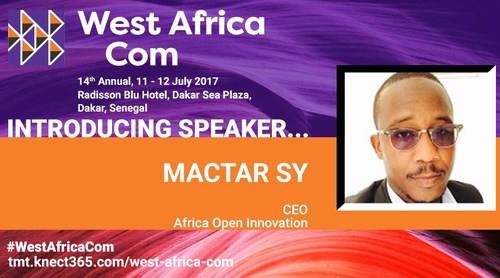 With less than a month until West Africa Com opens its doors in Dakar, we're reaching out to some of the event's most prominent speakers and partners to gain their insights and opinions.
We interviewed the CEO of Africa Open Innovation, Mactar Sy, about the importance of partnerships in bridging the digital divide and the successes the region has seen in recent years, as well as his involvement at West Africa Com 2017.
We look forward to welcoming you to West Africa Com, where you will be taking part in panel discussions on: evolving mobile network strategies; and powering up ecosystem partnerships to expand infrastructure. How important have partnerships become in recent years?
It is a pleasure for me and my team to take part, for the second time in a row, in this very important and unmissable event in the African telco sector and particularly in West Africa. Last year I was a panellist on 'Supporting Innovation and Technological Entrepreneurship in West Africa' and this year I am honoured to be a panellist discussing MNO strategies and the ecosystem partnerships to develop infrastructure.
With the cloud, virtualization, collaboration services etc, the development of connectivity must become a priority for players in the ecosystem. I think they are aware of this and are now undertaking initiatives in that direction.
Facing the challenges of major investments in backbone construction and the long-term profitability of these investments, innovative national and regional public-private partnerships are developing in a very interesting way.
These partnerships include public and institutional players and private players pooling infrastructure, financial resources and expertise to rapidly develop basic broadband infrastructures. This rapid development of these basic infrastructures will have a threefold objective: to provide broadband telecommunication services to a greater majority of the population; to increase the service offerings; and to move from infrastructure-based competition to competition based on services.
C'est encore un plaisir pour moi et mon équipe de prendre part pour la deuxième fois de suite à cet événement très important et incontournable dans le secteur des Telcos en Afrique et particulièrement en Afrique de l'ouest. L'année passée, je suis intervenu en tant que panéliste pour animer le thème 'Soutenir l'innovation et l'entrepreneuriat technologique en Afrique occidentale' et cette année, l'honneur m'est fait de me compter parmi les panélistes pour discuter des stratégies MNO et des partenariats écosystémiques pour développer l'infrastructure.
Avec l'évènement du cloud, de la virtualisation, des services de collaboration… etc, le développement de la connectivité doit devenir une priorité pour les acteurs de l'écosystème. Je pense qu'ils en sont conscients et entreprennent depuis des initiatives dans ce sens.
Face aux défis liés aux investissements importants à réaliser dans la construction de backbones et à la rentabilité à long terme de ces investissements, les partenariats public/privé innovants nationaux, régionaux se développent de manière très intéressant.
Ces partenariats comprennent des acteurs publics et institutionnels et des acteurs privés qui mettent en commun des infrastructures, des moyens financiers et des expertises afin de développer rapidement les infrastructures de base haut débit. Ce développement rapide de ces infrastructures de base aura un triple objectif à savoir fournir des services de télécommunications haut débit à une plus grande majorité des populations, augmenter l'offre de service et passer d'une concurrence basée sur l'infrastructure à une concurrence basée sur les services.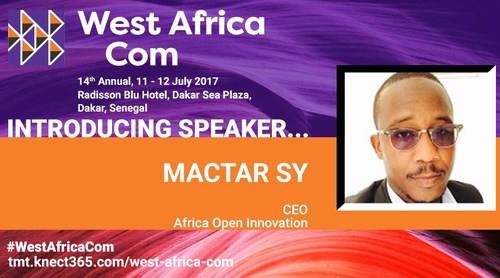 What are some of the key merits of ecosystem partnerships to expand coverage?
To mention just a few, it should be noted that over the past five years, the installation of new submarine cables has increased international bandwidth by twenty fold. Over the same period, land infrastructure has also doubled. These developments have brought considerable improvements in many areas. But to make the most of these advances, more investment is needed in national networks and cross-border connectivity.
Considerable work is currently under way to improve the conditions that make Internet access for users in Africa 30 to 40 times more expensive than users of developed countries. One example is the setting up of Internet exchange points (IXPs) at the local level. Africa now has over 30 IXPs and is well on its way to achieving the goal of having at least one IXP per country.
It should be emphasized that the Internet penetration rate of 300 million West Africans desperately remains at 29.6% by 2015. This means that much remains to be done for citizens' access to the Internet of ECOWAS [Economic Community of West African States].
Pour n'en citer que quelques-uns, il faut noter qu'au cours des cinq dernières années, l'installation de nouveaux câbles sous-marins a permis de multiplier par vingt la bande passante internationale. Au cours de la même période, l'infrastructure terrestre a également doublé. Ces évolutions ont apporté des améliorations considérables dans de nombreux domaines. Mais pour tirer le meilleur parti de ces avancées, il faut investir davantage dans les réseaux nationaux et dans la connectivité transfrontière.
Un travail considérable est actuellement en cours pour améliorer les conditions qui font qu'aujourd'hui l'accès à Internet pour les utilisateurs en Afrique est 30 à 40 fois plus cher comparé à ceux que paient les utilisateurs des pays développés. On peut citer comme exemple la mise en place de points d'échange Internet (IXP) au niveau local. L'Afrique compte aujourd'hui plus de 30 IXP et est bien partie pour atteindre l'objectif qui consiste à avoir au moins un IXP par pays.
Il faut souligner que le taux de pénétration Internet de 300 millions d'Africains de l'Ouest reste désespérément à 29,6% en 2015. Ce qui signifie que beaucoup d'efforts reste à faire pour l'accès à l'Internet des citoyens de la CEDEAO [Communauté économique des États de l'Afrique de l'Ouest].
What key challenges has the sector needed to overcome, or is still to overcome, to forge cohesive partnerships?
I believe that one of the fundamental challenges to be overcome is to ensure that the infrastructure used to provide the Internet connection is no longer owned by the incumbent from start to finish.
In today's value chain, these companies are vertically integrated and master the end-to-end supply chain.
Competition is not always perfect and practices limiting this competition have been observed in several markets.
Other challenges remain as, for example, the refusal to access the local loop used by incumbent operators constitutes a violation of the regulatory provisions and slows broadband access.
There are also two key factors that make this market uncompetitive; The first is the lack of infrastructure, which leads to insufficient interconnection of countries. The second factor is the ownership of almost all the infrastructures by the former incumbent operators, who practice monopoly methods in accessing these infrastructures.
Je pense qu'un des défis fondamentaux à surmonter est de faire en sorte que l'infrastructure utilisée dans la fourniture de la connexion Internet ne soit plus détenue de bout en bout par l'opérateur historique.
Dans la chaîne de valeur actuelle, ces entreprises sont intégrées verticalement et maîtrisent le processus de fourniture de bout en bout.
La concurrence n'est pas toujours parfaite et des pratiques limitant cette concurrence ont été observées sur plusieurs marchés.
D'autres défis subsistent comme par exemple, le refus d'accéder à la boucle locale utilisé par les opérateurs historiques constitue une violation des dispositions réglementaires et ralentit l'accès des populations à la large bande.
Il faut aussi noter deux facteurs essentiels qui rendent ce marché non compétitif ; la première est le manque d'infrastructure ce qui entraîne une interconnexion insuffisante des pays. Le deuxième facteur est la détention de la quasi-totalité des infrastructures par les anciens opérateurs historiques qui pratiquent des méthodes monopolistiques dans l'accès à ces infrastructures.
What key success stories have we seen with regards to win-win partnerships in the region?
Very interesting initiatives are being carried out in the region at all levels. The most recent development comes from Nigeria, with the setting up of Open-Connect, an interconnection service for carriers, companies and ISPs. This project ensures the best cross-connection services in this country, enabling customers to bypass the public Internet and connect directly to partners, cloud and SaaS providers with secure, reliable and flexible direct connections. With connections to Internet exchanges in Lagos, Amsterdam, London and Ghana and 50 additional points of presence in West Africa, MainOne enables operators, Internet service providers, content providers and businesses of all sizes to quickly and easily increase their network footprint without investing heavily in additional Infrastructure. This was made possible by MainOne's partnership with the Nigerian Internet Exchange (IXPN) to improve national transit traffic in Nigeria.
At the macro level, we can note the implementation of the Abidjan protocol on Free Roaming by Togo after Senegal, Côte d'Ivoire, Guinea Conakry, Mali, Burkina Faso and Sierra Leone. This agreement will allow citizens of West African countries traveling to the region to call [for] the price of a local call.
At a lower level, the Senegal-based Expresso operator understood that connectivity is important, but the offer of service in the form of a bundles to customers is more competitive. Hence its ambition to forge win-win partnerships with local players, IT companies to offer connectivity and value-added services to its customers.
There are, in the region, successes and partnerships with great potential, but much remains to be done.
Des initiatives très intéressantes sont en train d'être menée dans la région à tous les niveaux. La plus récente vient du Nigéria avec la mise en place d'Open-Connect, un service d'interconnexion pour les carriers, les entreprises et les FAI. Ce projet garantit les meilleurs services de connexion croisée dans ce pays, permettant aux clients de contourner l'Internet public et de se connecter directement aux partenaires, aux fournisseurs Cloud et SaaS avec des connexions directes sécurisées, fiables et flexibles. Avec les connexions aux échanges Internet à Lagos, Amsterdam, Londres et au Ghana et 50 points de présence de plus en Afrique de l'Ouest, MainOne permet aux opérateurs, aux fournisseurs de services Internet, aux fournisseurs de contenu et aux entreprises de toutes tailles d'accroître rapidement et facilement leur empreinte réseau sans investir lourdement en supplément Infrastructure. Cela a été possible par le partenariat de MainOne avec le Nigerian Internet Exchange, (IXPN) pour améliorer le trafic national de transit au Nigéria.
Au niveau macro, on peut noter la mise en œuvre du protocole d'Abidjan sur le Free Roaming par le Togo après le Sénégal, la Côte d'Ivoire, la Guinée Conakry, le Mali, le Burkina Faso et la Sierra Leone. Cet accord va permettre aux citoyens des pays d'Afrique de l'Ouest en déplacement dans la région de téléphoner au prix d'un appel local.
A un niveau plus bas, l'opérateur Expresso basé au Sénégal a compris que la connectivité est certes importante mais la proposition de service sous forme de bundle aux clients est plus compétitive. D'où son ambition de nouer des partenariats win-win avec des acteurs locaux, entreprises IT afin d'offrir la connectivité et des services à fortes valeurs ajoutées à ses clients.
Des réussites et des partenariats à fort potentiel, il y'en a dans la région mais beaucoup reste à faire.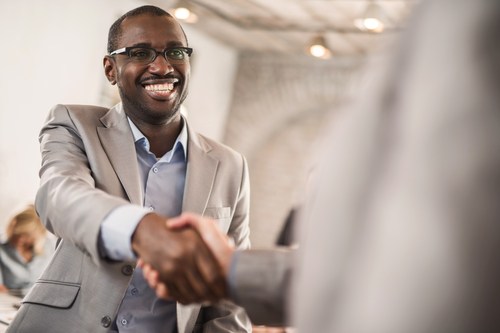 What viable solutions to bridging the rural connectivity divide have you seen in West Africa?
The problems of electrification in rural areas in Africa is a blocking factor for the development of viable solutions to bridge the connectivity gap in these places.
As the Google project shows, the Tunisian choice of fiber is not applicable on a continental scale -- it is too expensive and too complex to set up for some countries. So one of the most viable solutions is based on [broadband wireless access], which is an alternative and technologically and economically acceptable, moreover propelled by the ITU with the establishment of more than 180 stations in more than six countries.
Under its leadership, 180 new base stations have already been set up in six African countries. Thus, thanks to [broadband wireless access], schools, hospitals and more generally isolated populations benefit from free or inexpensive Internet access.
Avec les problématiques d'électrification des zones rurales en Afrique constitue un facteur bloquant pour le développement de solutions viables pour combler le fossé de connectivité dans ces lieux.
Comme le montre le projet de Google, le choix tunisien de la fibre n'est pas applicable à l'échelle du continent. Trop cher et trop complexe à mettre en place pour certains pays. Alors l'une des solutions les plus viables reposent sur l'hertzien qui constituent une alternative et technologiquement et économiquement acceptable, d'ailleurs propulsé par l'UIT avec la mise en place de plus de 180 stations dans plus de six pays. Sous son impulsion, 180 nouvelles stations de bases ont déjà été créés dans six pays africains. Ainsi, grâce à l'hertzien, des écoles, des hôpitaux et plus largement des populations isolées bénéficient d'un accès Internet gratuit ou peu coûteux.
What has Africa Open Innovation been able to accomplish with regards to increasing connectivity in West Africa?
Africa Open Innovation is a company whose mission is to create synergies between large companies and startups with a view to rapidly emerging innovative solutions -- that is to say, the services of tomorrow, with open innovation, and while remaining in a spirit of win-win partnerships. It is with this in mind that in the very near future we will launch calls for projects for African startups to submit innovative ideas and concepts enabling large groups to offer products that meet as much as possible the needs of increasingly demanding users.
Among our customer segments are, of course, the telco operators with whom we will implement call-to-project initiatives in strategic areas, for example, application development for OTT activity measurement, connectivity, the digital economy etc.
Today, we are aware that the development of connectivity in West Africa is a necessity in view of the exponential increase in digital services that require more and more bandwidth. We are reflecting on very innovative projects with our partners to bridge the digital divide.
Africa Open Innovation est une entreprise qui a pour mission de créer des synergies entre les grandes entreprises et les start-ups en vue de faire rapidement émerger des solutions inédites, innovantes c'est-à-dire les services de demain dans une démarche d'innovation ouverte (open innovation) et tout en restant dans un esprit de partenariats win-win. C'est dans cette optique que nous lancerons dans un avenir très proche des initiatives d'appel à projet pour ces start-ups africaines afin qu'elles soumettent des idées et concepts innovants permettant aux grands groupes de proposer des produits répondant le plus possible aux besoins des utilisateurs de plus en plus exigeants.
Parmi nos segments de clients figurent naturellement les opérateurs de Telcos avec qui nous allons mettre en place des initiatives d'appel à projet dans des domaines stratégiques, par exemple : le développement d'application pour la mesure de l'activité des OTT, la connectivité, l'économie numérique…etc. Aujourd'hui, nous sommes conscients que le développement de la connectivité en Afrique de l'Ouest est une nécessité vue l'augmentation exponentielle des services numériques qui demandent de plus en plus de bande passante. Nous réfléchissons sur des projets très innovant avec nos partenaires en vue de combler cette fracture numérique.
What are Africa Open Innovations plans and projects for the future?
Africa Open Innovation wants to be the driving force behind African development and this requires the implementation of systems of endogenous innovations. The projects are diverse and affect almost all sectors of activity. In the very near future Africa Open Innovation will launch the first platform for financing and supporting African innovations by Africans. This platform will enable African startups to highlight their innovations and Africans to finance them in order to support them. This system will reduce the mortality rate of young African startups, democratize access to finance and above all promote innovation in all sectors of activity in Africa.
At the same time, a more ambitious project will emerge and will be geared towards increasing the competitiveness of companies in all sectors. This project is the setting up of the first digital open innovation platform in Africa to facilitate the linking of large groups and startups with the aim of facilitating synergies between these two ecosystem stakeholders, co-creation, and to offer African consumers innovative digital services.
Following a dynamic of open innovation, Africa Open Innovation is working on important co-creation projects between the most prominent individuals in the ecosystem.
Africa Open Innovation se veut être la force motrice du développement africain et cela passe par la mise en place de systèmes d'innovations endogènes. Les projets sont multiples et divers et touche presque tous les secteurs d'activité. Dans un avenir très proche Africa Open Innovation va lancer la première plateforme de financement et de soutien des innovations africaines par les africains. Cette plateforme permettra aux start-ups africaines de mettre en avant leurs innovations et aux africains de les financer en vue de les soutenir. Ce système permettra de réduire le taux de mortalité des jeunes start-ups africaines, de démocratiser l'accès au financement et surtout de favoriser l'innovation dans tous les secteurs d'activité en Afrique.
Parallèlement, un projet plus ambitieux verra le jour et sera orienté à l'accroissement de la compétitivité des entreprises de tout secteur confondu. Ce projet est la mise en place de la première plateforme digitale d'open innovation en Afrique pour faciliter la mise en relation des grands groupes et start-ups avec pour objectif de faciliter les synergies entre ces deux parties prenantes de l'écosystème, de favoriser la Co-création, et de proposer aux consommateurs africains des services numériques innovants.
En suivant un dynamique d'open innovation Africa Open Innovation travaille sur d'importants projets de Co-création entre les acteurs de l'écosystème.

What kinds of individuals and companies have you met, or are expecting to meet, and engage with at West Africa Com?
We are interested in any type of business regardless of size [or] industry. Our fields of activity are not limited to telcos but to all sectors -- for us, innovation is multidimensional.
Last year, West Africa Com allowed us to meet very important players and to establish long-term partnerships with them.
As part of this unmissable event, which brings together companies from the telco sector, our objective would be to meet stakeholders in this sector in order to be able to establish win-win partnerships with them in order to support them in their open innovation process.
We do not particularly have criteria for choosing our future partners -- perhaps a company that is part of a dynamic innovation of openness, growth and performance and which aspires to work with local players -- In other words, technology startups.
Nous sommes intéressés par tout type d'entreprises indépendamment de sa taille, de son secteur d'activité. Nos domaines d'activité ne se limitent pas seulement aux Telcos mais à tous les secteurs, pour nous l'innovation est multidimensionnelle.
L'année passée, le forum West Africa Com, nous a permis de rencontrer des acteurs très importants et de nouer des partenariats s'inscrivant dans le long terme avec ces derniers.
Dans le cadre de cet événement incontournable regroupant des entreprises du secteur des Telcos, notre objectif serait de rencontrer des acteurs de ce secteur afin de pouvoir nouer avec eux des partenariats win-win dans le but de leur accompagner dans leur démarche d'innovation ouverte.
Nous n'avons pas particulièrement des critères de choix de nos futurs partenaires, peut-être une entreprise qui s'inscrit dans une dynamique d'innovation ouverture, de croissance et de performance et qui ambitionne de travailler avec les acteurs locaux c'est-à-dire les start-ups technologiques.
Would you encourage others in the sector to attend West Africa Com, and why?
Obviously, within Africa Open Innovation, we are convinced that this type of initiative contributes greatly to the development of the telco sector: Bringing together the actors in this field with the aim of exchanging on the problems, strategies and advances of the sector and the establishment of win-win partnerships is only beneficial for the whole ecosystem.
This can be confirmed by our special relationship with West Africa Com for two years as a media partner. Convinced of its strategic dimension for West Africa, we will spare no effort to promote this unavoidable event.
Évidemment, au sein de Africa Open Innovation, nous sommes convaincus que ce genre d'initiative contribue fortement au développement du secteur des Telcos. La mise en relation des acteurs de ce domaine dans l'objectif d'échanger sur les problématiques, stratégies et avancées du secteur et la mise en place de partenariats win-win n'est que bénéfique pour l'ensemble de l'écosystème.
Cela peut être confirmé par notre relation particulière avec West Africa Com depuis deux ans comme partenaire média. Convaincus de sa dimension stratégique pour l'Afrique de l'ouest, nous ménagerons aucun effort pour la promotion de cet événement incontournable.
What are you most looking forward to at this year's event?
We will be very interested in meeting potential ecosystem partners. Given the meticulous choice of the panelists, the quality of the debates will be there.
Beyond that, we are convinced that quite a number of interesting recommendations will be formulated and will make it possible to move the ecosystem even more.
Nous serons très intéressés de rencontrer de potentiels partenaires de l'écosystème. Vu le choix minutieux des panélistes, la qualité des débats sera au rendez-vous.
Au-delà, nous sommes convaincus que pas mal de recommandations intéressantes seront formulées et permettront de faire bouger encore plus l'écosystème.
If you're interested in West African connectivity, why not learn from and engage with the architects at the forefront of the region's tech and telecommunications development at West Africa Com 2017? Find out more about the event here. Take a look at the West Africa Com packages and purchase your pass here.
Upcoming events:
West Africa Com 11 - 12 July, Dakar
Nigeria Com 20 - 21 September, Lagos
AfricaCom 6 - 10 November, Cape Town
Be part of the African tech and telco conversation here:
Twitter
Facebook
LinkedIn
Instagram
— Amy Turner, Digital Content Marketer, KNect365