Developing the Digital Economy Takes Center Stage at West Africa Com 2017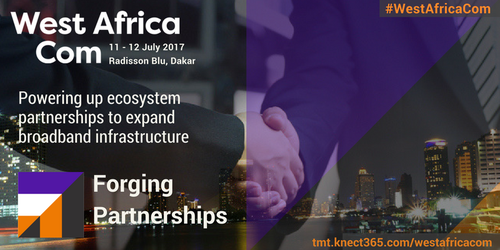 The West African telecommunications sector is experiencing renewed enthusiasm from both regulators and operators alike around forging partnerships and harmonising the regions disparate telecommunications regulations. These efforts from both sides seek to spearhead more widespread connectivity rollouts across West Africa. Honing in on these key issues will be this year's West Africa Com, returning to Dakar on July 11-12, 2017.
West Africa Com unites the Francophone and Anglophone markets over two days of keynote addresses, panel discussions and networking opportunities, putting West African telecommunications and the digital economy at the forefront of conversation in the region. The event will welcome more than 300 attendees, more than 40 expert speakers, and scores of solutions-focused exhibitors from the telecoms, media and technology sectors in West Africa.
This year's event will focus on developing win-win partnerships to grow the West African digital economy and bridge the digital divide. Covering everything from infrastructure to blockchain and cryptocurrencies, via IoT and collaborating with OTTs, the agenda will also explore how the telco value chain can leverage its assets to deliver low-cost broadband and innovative digital services to both consumers and enterprises in the region.
Day 1 of the event opens with the Operator Keynote Address on 'Precise and profitable network coverage' by the CEO of MTN Benin Stephen Blewitt . He will address delegates on market sizing and segmentation in rural areas, as well as leveraging group platforms to bring new services.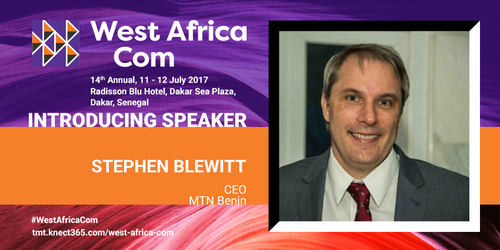 Joining Blewitt on the keynote agenda is Mauritius Telecom's Deputy CEO Claire Paponneau, who will be presenting the afternoon's Operator Keynote Address on 'Uncovering digital opportunities in the sector.'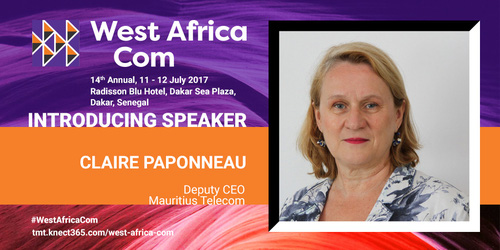 In addition to these keynote presentations there will be a number of immersive panel discussions that will serve to spur compelling debate and opinion. The first is the panel discussion on How regulators can accelerate the spread of internet connectivity in West Africa, featuring executives from MTN Ghana, Expresso Telecom, ARTP, Sonatel and MTN Benin.
Other notable panel discussions focus on Powering up ecosystem partnerships to expand broadband infrastructure, as well as a telecoms financing discussion on What financiers seek from CSP business plans.
Not to be outdone by day 1's agenda, the second day of West Africa Com will cover an expansive range of hot topics, spanning telecommunications growth opportunities, collaboration with social OTTs, customer service management, voice wholesale in the era of the smartphone and the ever growing concerns around cyber security.
The biggest keynote of the day will be delivered by Expresso Telecom's Abdalla Saeed who will be presenting on the subject of Battling the Goliaths, which will be exploring key success factors in a highly competitive market and the strategies necessary to unlock profitable new opportunities.

West Africa Com once again welcomes the Ovum analyst team, who will be providing strategic analysis into the West African connectivity landscape. Ovum's Senior Research Analyst Thecla Mbongue will be moderating and presenting a number of key sessions, including How can telcos and OTTs work together for socio-economic development?.
Opportunities within the IoT and cloud sectors will feature strongly on day 2 of the agenda with session focussing specifically on Sizing the mIoT opportunity for telcos, looking at how to reuse legacy GSM infrastructure to power up the machine age.
One of most prominent panels of the day is set to be the discussion on Cloud and IoT: Exploring the enterprise opportunity with Expresso Telecom, 42com and Ignition Telecoms.
Following those compelling agenda items, delegates will be able to conclude each day with a number of social and networking opportunities, giving them an opportunity to relax and re-connect with old colleagues and clients, as well as forge new relationships and partnerships. Taking place at the end of the first day will be the exclusive post-event poolside party, brought to you by Sonatel, where delegates are able to network in an informal setting with those at the helm of the West African tech and telecoms sectors.
There is also the opportunity to celebrate how far the industry has come and pay tribute to the industry initiatives and individuals driving connectivity and innovation in the region at the West Africa Com Awards. Find out more about the West Africa Com awards and submit your entry at the awards home page.
If you're interested in West African connectivity, why not learn from and engage with the architects at the forefront of the region's tech and telecommunications development at West Africa Com 2017? Find out more about the event here. Take a look at the West Africa Com packages and purchase your pass here.
Upcoming events:
West Africa Com 11 - 12 July, Dakar
Nigeria Com 20 - 21 September, Lagos
AfricaCom 6 - 10 November, Cape Town
Be part of the African tech and telco conversation here:
Twitter
Facebook
LinkedIn
Instagram
— Amy Turner, Digital Content Marketer, KNect365