The Countdown to East Africa Com 2017: What to Expect on Day 1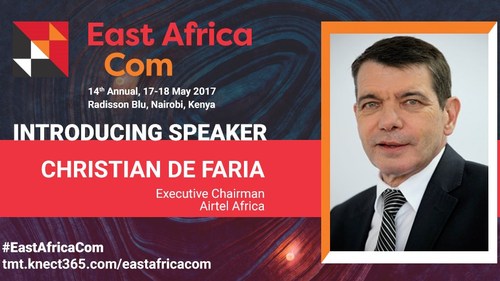 There's a little over a week to go until
East Africa Com 2017
kicks off in the Silicon Savannah, with more than 600 attendees expected to descend upon Nairobi for the 14th annual event. Joining them will be over 50 expert speakers and 20 solutions-focused exhibitors from the telecommunications, media and technology sectors, making East Africa Com the leading strategic event for executives working in the region.
This year's East Africa Com, which takes place at the Radisson Blu, Upper Hill, Nairobi on May 17 and 18, will focus on the transformational impact of digital communication on business, in not only the telecoms industry but also in East Africa's burgeoning digital TV sector.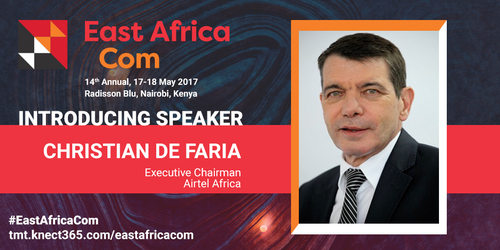 Day 1 of the event sees a selection of Africa's leading mobile network operators address delegates in two separate keynotes focused on bridging the connectivity divide in East Africa and beyond. Safaricom's Corporate Affairs Director Steve Chege will be speaking on The socioeconomic benefits of NBN and the key rollout strategies in Eastern Africa, while Christian De Faria, Airtel's Executive Chairman, will be discussing how policymakers and regulators can create an enabling environment for operators to improve connectivity to underserved segments of the population.
Joining Chege and De Faria will be Telkom Kenya's CEO Aldo Mareuse, whose presentation on how mobile network operator strategies are evolving to meet the demands of a shifting digital landscape, will be kicking off the Creating East Africa's Connected Society stream, also on day 1.
It's not only the major MNOs that will be attending this year's event, though -- day 1 will also see presentations and panel discussions involving research analysts and experts from the likes of Ovum, Data Networks, UROS Group and Calix, who will be speaking on a range of topics from SDN and NFV deployments, infrastructure sharing, investment opportunities and more.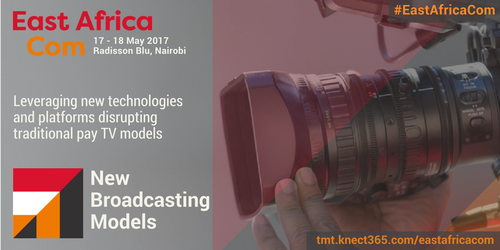 Last year saw the establishment of the first ever Digital Broadcasting stream at East Africa Com and, due to last year's success and high levels of interest, is back for its second year. This year, East Africa Com welcomes, among others, General Manager for Digital at Bamba TV, Danny Mucira, Senior Manager for TV and Media Content Catherine Wanjiku Njari, and Kana Television's Co-Founder and Managing Director Elias Schulze, who will be debating and analysing digital migration, OTT TV models, and the deployment of new and disruptive technologies in the space.
Day 1 will conclude with a not-to-be-missed panel discussion focused on Examining IoT's practical applications to stimulating markets and the central role of the MNO, featuring leading minds in both African technology and communications. Sizing up the IoT opportunities for telcos will be Safricom's Head of Strategy Ken Okwero, Mauritius Telecom's Claire Papponeau, The Internet Society's Antony Otieno, the GSM Association's Angela Wamola and Ovum Research Analyst Danson Njue.
In addition, throughout the day there are also many opportunities to meet and forge meaningful business relationships through networking sessions, private meeting opportunities, poolside networking drinks and the extensive solutions-focused exhibition.
Tomorrow we'll look at what to expect on day 2 of this year's East Africa Com.

There's still time to purchase your delegate pass to East Africa Com here. If you're a regional operator or regulator, you can attend the event for free -- sign up here. If you can't be there in person, follow all the discussions and breaking news on Connecting Africa and on our social media channels using the hashtag #EastAfricaCom.
Be part of the African tech and telco conversation here:
Twitter
Facebook
LinkedIn
Instagram
— Amy Turner, Digital Content Marketer, KNect365