Driving Access to Mobile Health Services – AfricaCom Interview With Dr Michael Mol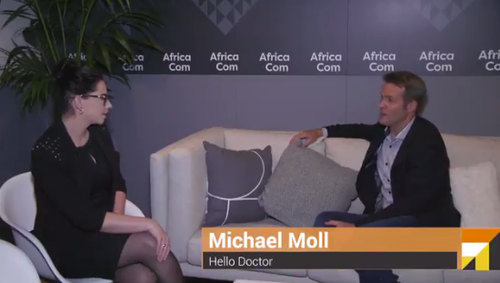 The state of Africa's health service has been a central focus for governments, NGOs and charities alike for decades.
But the challenge of improving the situation is increasingly being addressed by the tech world. Enter mobile health services, also known as mHealth initiatives. On a continent with more mobile phones than people, it is this kind of technology that is starting to make major strides in connecting under-served communities to immediately available health services and offering health advice at the touch of a button.
One mobile health platform that has gained a strong foothold in Africa and Asia during the past couple of years is Hello Doctor. Speaking at the 19th annual AfricaCom, head of Hello Doctor, Dr Michael Mol, presented a case study, "Driving Access to Mobile Health Services."
Talking after his case study presentation, Dr Mol spoke extensively about the current healthcare situation on the continent and how mHealth solutions such as Hello Doctor can bridge the medical divide.
Dr Michael Mol has had a wide and varied career, being a recognizable face in African television and media for more than 15 years, yet it was his love of medicine and the glaring health crisis on the continent that saw him pivot back into healthcare, via the way of tech: "We asked ourselves a question how do we address this giant […] issue, how do we meet the needs of so many people on such a vast continent in a way that's affordable and viable and we came up with Hello Doctor – access to a doctor on your mobile phone," says Mol.

But with discrepancies in connectivity reach and the economic limitations of many areas of the continent, how does a technology such as this reach those who matter most? For Hello Doctor, the mission was clear: regardless of device you should have access to their services. Speaking about the platform's reach, Dr Mol says that you can access the service "via USSD [Unstructured Supplementary Service Data] or via the app. If you have a mobile device, you can get hold of one of our doctors."
The platform has also been able to turn the provision of healthcare services on its head by being one of the first mHealth services that allows doctors to get hold of the patient rather than the other way around: "For too long doctors have expected people to come to us [and] our clinics, our rooms. Let's make the user the center of attention -- you need a doctor, give us a call and we'll phone you. When you need a doctor we're at the end of the phone and within an hour we'll call you and find out how we can help," declares Mol.
After being rolled out in South Africa, Zambia, Mauritius, Kenya and Indonesia, Hello Doctor is setting its sights on India next and, in terms of future developments and priorities for the platform, there's a lot in store. Watch the full interview with Dr Mol below to learn more:
If you're interested in eHealth initiatives in Africa, why not learn from and engage with the architects at the forefront of digital Africa at one of the Connecting Africa series of events? Dr Michael Mol is speaking at East Africa Com 2017, taking place May 17-18 at the Radisson Blu, Nairobi.
Delegate passes are limited: Find out more about the event here and book your delegate pass here.
Upcoming events:
East Africa Com
, May 17-18, Nairobi
West Africa Com
, July 11-12, Dakar
Nigeria Com
, September 20-21, Lagos
AfricaCom
, November 6-10, Cape Town
Be part of the African tech and telco conversation here:
Twitter
Facebook
LinkedIn
Instagram
— Amy Turner, Digital Content Marketer, KNect365