Examining the Digital Transformation for Financial Services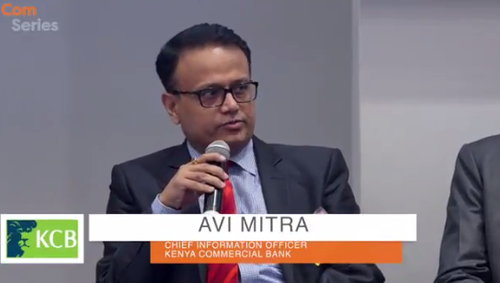 "Business will be there as long as there is innovation."
This was according to Kenya Commercial Bank's CIO Avi Mitra, during the Finance Leaders Roundtable at East Africa Com 2016.
These same sentiments were echoed by the other panellists, Kevin Mwasigwa, the Development Manager at National Bank of Kenya and Martin Omido, Head of ICT at Harambee Sacco Society.
This roundtable discussion served as a rare opportunity to bring the leading technical minds of the East African banking sector together to talk about the rapidly evolving and converging digital and financial ecosystem in the region.
One of the biggest talking points throughout the course of this session was the notion of competition and innovation in the space as a result of uniquely African offerings entering the digital financial services space, Safaricom's M-Pesa in particular.
Asked whether the banking sector saw Safaricom and its products as a threat to the livelihood of East African banks, Martin Omido said that was not the case, noting that it was a great opportunity for banks and telecoms operators to partner, stating that: "I don't think competition is bad -- competition is good. I think the strength for Safaricom is really in telco -- for them to do a great deal of credit, they need to partner with a bank. So the best we can do as banks is to leverage on that particular advantage for both of us to benefit […] – it is an opportunity for new business."
Discussing the way in which banks are pivoting towards more digital platforms with which to engage with their customer base, the panel noted how this has led to the growing need for more stringent security measures in the face of the ever-increasing threat of breaches.
Avi Mitra discussed how Kenya Commercial Bank makes its customer security top priority and experiences about 1,000 failed DDOS attacks on its system each day. He informed East Africa Com attendees that: "Fraud is actually happening from the inside out. As much as we have strengthened the external wall, so that the fraudsters cannot get it, we are focussing on the internal wall."
Together with the topics of security and innovation, the panel also took an in-depth look at aligning a digital strategy for financial services, as well as how to build customer value, convenience, and trust in mobility solutions for banking customers.
You can watch the full Finance Leader Roundtable Discussion below as we look forward to this year's East Africa Com:
East AfricaCom 2017 is taking place between the 17th-18th May 2017 at the Radisson Blu Nairobi, Kenya. East Africa Com is the premier strategic event for TMT executives in East Africa – championing the transformational impact of digital communication on lives and businesses.
To find out more about East Africa Com click here. Super Early Bird rates are valid until the 18 March 2017, grab your ticket from only £700 here.
Upcoming events:
East Africa Com 17 - 18 May, Nairobi
West Africa Com 11 - 12 July, Dakar
Nigeria Com 20 - 21 September, Lagos
AfricaCom 6 - 10 November, Cape Town

Be part of the African tech and telco conversation here:
Twitter
Facebook
LinkedIn
Instagram
— Amy Turner, Digital Content Marketer, KNect365