Underpinning Africa's Service-Orientated Economies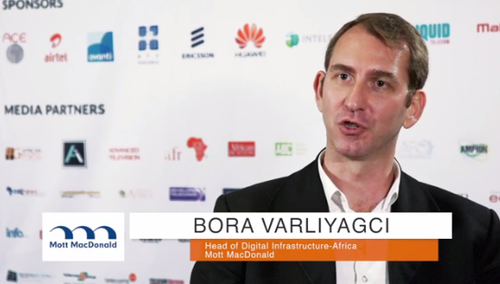 Africa's commodities boom is coming to a thunderous close: African economies have taken a knock during the past few years, in large part due to their dependence on commodities and finite resources.
In this new era of African digital innovation, there have been calls for the continent's economies to pivot towards more service-orientated commerce: Progress is already evident in countries such as Kenya and South Africa.
After taking part in the AfricaCom panel discussion on economic development through digital connectivity, Bora Varliyargci, head of digital infrastructure at global engineering, management and development consultancy Mott MacDonald, sat down with AfricaCom TV to talk about connectivity, spectrum and why automated services are the key to a thriving African economy.
Speaking about the current state of connectivity across Africa, Varliyargci noted the growth in international capacity throughout the continent, with around 1 million kilometers of fiber now running through Africa, twice what it was six years ago: "The bottom line is that we have been making progress in Africa, getting broadband to all, [we are getting] closer every day," noted Varliyargci.
There is still, however, the challenge of "last mile" connectivity and finding an economically viable way of building access networks. Varliyargci believes the answer lies in "collaboration between governments and industrial players … we need a better and more holistic alignment, and get our act together tackling these issues on the supply side."
With that said, there have been some encouraging developments in the realm of infrastructure sharing on the continent, which has enabled the development of virtual networks that make use of cloud infrastructure and emerging technologies such as SDN (software-defined networking) and NFV (network functions virtualization). Varliyargci points out that this raises real questions about what "the role of current incumbent service providers will be going forward, how will they reinvent their services, retain their relationship with their end users -- they still have the advantage today but not for long."
Focusing on the South African public sector, Varliyargci believes that the biggest challenge remains in the allocation of digital dividend spectrum, which will allow broadband services to achieve scalability: "It's not an easy question because even if you allocate spectrum today, you probably won't make use of it for the next two years and by the time you are in business you are looking at three to four years from now."
Conversely, there is a real sense of opportunity presented in such a challenge, as the delay in spectrum has given rise "lots of new startups as well as some smaller players stepping up the value chain to take advantage of this situation," notes Varliyargci.
For Varliyargci, a critical potential impact of broader connectivity is its role in helping to raise living standards, as well as enable safe, secure and connected cities. He notes that having agile public services will also make Africa more attractive for outside investors: It's vital that the continent needs to look to "smart grids, IoT and more connected devices and automated systems -- we need to get Africa into service-orientated economies."
Watch the full interview below:
If you're interested in African connectivity evolution, then why not attend one of Connecting Africa's series of events?
Upcoming events:
East Africa Com May 17-18, Nairobi
West Africa Com July 11-12, Dakar
Nigeria Com September 20-21, Lagos
AfricaCom November 6-10, Cape Town

Be part of the African tech and telco conversation here:
Twitter
Facebook
LinkedIn
Instagram
— Amy Turner, Digital Content Marketer, KNect365