Tech Investment in the Silicon Cape: AfricaCom Interview with Wesgro's Tim Harris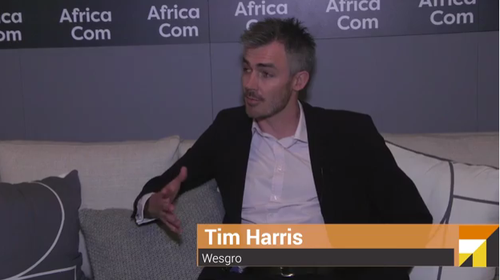 Africa is proving to be fertile soil where tech incubators and startups are concerned and according to
Quartz Africa
, the number of tech hubs on the continent
more than doubled in the 12 months to July 2016
.
Some of the most impressive examples of startup activity found in Sub-Saharan Africa is taking place in Nigeria, Kenya (dubbed the Silicon Savannah) and South Africa.
Blazing ahead in terms of tech hub numbers is South Africa, which has a grand total of 54, as of last year's official figures. At AfricaCom 2016's AHUB powered by Ericsson, there was much discussion around the tech incubator and startup ecosystem and which city is its tech capital.
Tim Harris, Wesgro CEO and former South African Shadow Minister for Finance and Cape Town Director of Trade and Investment, spoke at the 2016 event and noted that any city that wants to become a regional tech hub needs to answer the following 3 questions:
1) Does it have the skills required?
2) Can you pull skills from elsewhere?
3) Do you have adequate infrastructure?
Founded in 1982, Wesgro is a government agency and the official tourism, trade & investment promotion agency for Cape Town and the Western Cape. Its aim is to promote the potential of the region and elevate its standing on the world stage, with its growing role as a leading tech hub on the African continent.
AfricaCom TV sat down with Tim to chat about Cape Town's tech hub status, the challenges which still exist in the ecosystem and the major strides Wesgro has made in facilitating investment and tech innovation in the Western Cape.
In this interview, Tim discussed how Cape Town is able to meet these vital tech hub criteria, how it was able to get there and what key challenges the Western Cape was able to overcome. Wesgro's CEO also noted how the Western Cape's traditional strengths within finance, tourism and retail have been the key drivers of the Cape Town tech scene and translated into new economy businesses.
Check out the video below to see the full interview on tech innovation and investment in the Western Cape:
Interested in the transformative power of innovation and investment on the African continent? Then why not attend AfricaCom 2017? Africa's biggest and most influential tech and telco event will be taking place 6-10 November 2017 at the CTICC in Cape Town, South Africa. Find out more here.
Be part of the African tech and telco conversation, here:
AfricaCom
Twitter
Facebook
LinkedIn
Instagram
— Amy Turner, Community Site Editor, Connecting Africa