The Making of Africa's Most Strategic Bandwidth Hub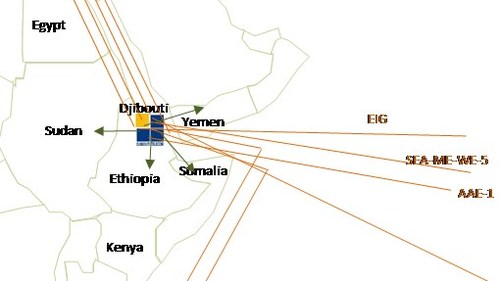 Despite its small size, Djibouti has emerged as arguably Africa's most critical international capacity hub.
As of 2016, eight international cables that connect four continents were landing in Djibouti, including some of the most critical cables to global communications, such as SEA-ME-WE 5 and Europe India Gateway (EIG). This is the highest number of cable landing points in sub-Saharan Africa, and a popular peering exchange point for international cables.
Cables landing in Djibouti currently fall into three groups:
International, high-capacity cables connecting Asia to Europe (SEA-ME-WE, EIG, AAE-1)
African East coast cables to Europe (Seacom and Eassy)
Regional cables providing an international outlet to neighboring countries, most notably Ethiopia, Somalia and Yemen.
The emergence of Djibouti as an international hub is the result of a deliberate, carefully calibrated strategy. The country's most important asset is its geographic location, a nexus between Asia, Africa and the Middle East, and a peaceful haven surrounded by larger but more tumultuous neighbors -- Ethiopia, Somalia, Eritrea, Sudan, and across the Strait, Yemen. Through Djibouti Telecom, the country's state-owned carrier, Djibouti has gone about maximizing this position, quickly becoming one of Africa's most important carriers, despite being one of its smallest.
But Djibouti is not merely a passive host to cables passing by. ODuring the past five years, state-owned Djibouti Telecom has made some of the most aggressive bets by an African operator on international capacity markets, building what is now one of Africa's largest pools of international capacity assets. The company has invested more than US$100 million in acquiring stakes in some of the world's largest cable consortia and, as a result, Djibouti Telecom is on track to becoming a Top 5 capacity holder in Africa, and a critical player in selling regional and international capacity in the horn of Africa and across the entire East African coast.
Djibouti Telecom (DT) has been performing what, in Xalam's estimation, is one of the smartest wholesale plays we've seen from an African telco in a long time. It's a two level play: First, build up as many diverse routes from Djibouti to Europe as possible; then, second, pool rising regional demand to feed that onward capacity supply to Europe. That this is coming from a state telco, and with the state's blessing, shows perhaps the importance of a strategy whose underpinnings are likely more than commercial.
So long as DT can be extremely competitive on Djibouti-to-Europe pricing and customize its offering to African demand, it will be a tough competitor for international players, for whom the African market is a secondary consideration (at best), and regional players, which lack the onward capability, or, if they have it, will find it difficult to compete on price.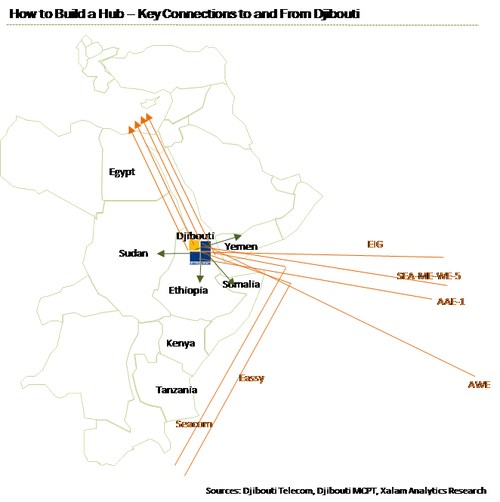 A critical consideration in making this work will be to improve the sourcing of regional traffic, which is currently being brought in by the likes of Seacom and Eassy. This is the likely objective of the DARE cable system, a regional project led by DT, in partnership with a number of Somalian telcos, and designed to offer a 60 Tbit/s subsea connection from Mombasa to Djibouti. Should DT be able to pull this off, the company would emerge as the biggest challenger to the East African capacity business of Eassy, Teams and Seacom.
This all makes for a solid outlook for DT. Under Xalam's capacity projections, and depending on various sets of assumptions, Djibouti will emerge as a top three holder of African international capacity by 2018. The only blip, in our estimation, is a below-par retail broadband offering in its home market. Djibouti, where DT holds a monopoly, falls in the lower tier of broadband penetration in Africa (around 13%), a performance that is surprisingly below the standard that DT's international performance would lead one to anticipate.
— Guy Zibi, Principal, Xalam Analytics