Research Bites: The impact of robotics on SA's automobile industry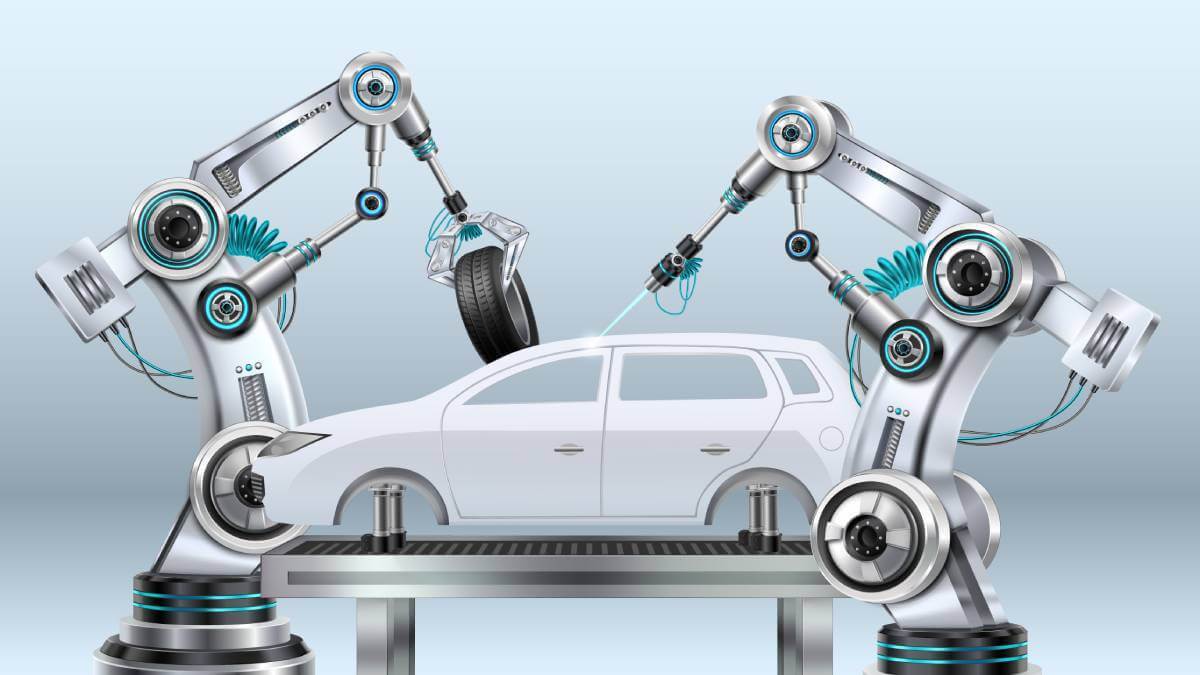 — This article is part of a series in collaboration with the African Journal of Science, Technology, Innovation and Development
Global competition in the motor industry's job market demands continuous development and transformation of manufacturing processes, making the automotive sector the world's most extensive robotics installation.
This industry has already benefitted from the interdependence between human workers and robots, operating side-by-side to assist both auto workers and industry management.
In the quest to expand productivity, the automobile industry in South Africa aspires to incorporate innovative automation into its labor practices.
As the auto industry expands, the technology-human interface becomes the best attribute of successful implementation in the sector. Having robots that perform some work in the assembly line increases precision, productivity and safety in the industry.
What we see is that cooperation between humans and robots not only improves productivity but also eliminates repetitive activities for human employees and alleviates psychological strain on them. It also provides a better standard of management for automobile businesses.
Research shows that the latest advances seem to be establishing a new division of labor in which employees are doing work that assists complex tasks.
Human employees are best suited for tasks that require linking electrical movements in cars, such as joining circuits. In contrast, robots are better at accurately tightening bolts, welding and painting in isolation.
Bringing robotics into the mix
The automobile sector relies heavily on innovation to adapt to an ever-changing business environment and stay competitive in the motor world.
In our research we wished to explore what determines the adoption of robots in the South African car industry – taking safety, job satisfaction and experiences of workers with industrial robots into consideration.
Our study examined the issues using a qualitative approach. Data was gathered via an in-depth interview with 30 participants from three South African automobile manufacturers.
We discovered that senior management are actively seeking and opting for financial opportunities that will enhance the company's competitive advantage in the labor market.
The selection process is affected by circumstances such as the supply and demand for automobiles and the performance of other rivals, which determines the organization's rate of expansion into new markets and possibilities.
Cost-cutting in business and competitiveness in the labor market are critical components of the technical route since they shape its development. Generally, auto-assembly plant managers are concerned with accelerating and sustaining innovative development.
Due to the complexity of the automotive industry, particularly when coupled with a variety of vehicle types, the automobile sector must rely on human-robot collaboration to effectively react to an ever-changing economic environment and stay competitive in the global motor market.
This implies that the development of robots and their application to new tasks is critical to ensuring South African automakers' competitiveness in the global automotive industry.
This strategic decision indicates that South Africa's automotive companies are working on a novel solution in the form of a human-robot interface to optimize long-term payoff potential.
Human-robot interface
For decades the manufacturing industry has integrated robotic technology into the workforce to improve proficiency and to reduce workload and stress on workers.
We discovered that combining human flexibility with the accuracy of industrial robots enables the plant's vehicles to operate safely and at a high volume.
In the automotive industry, the human-robot interface has made life simpler for employees by removing the need for production workers to do routine operations manually, putting their health at risk.
Workers tend to spend more than 50% of their working day repeating the same movements, which increases musculoskeletal disorders on different parts of the worker's body and may be perilous if operating protocols are not followed. Additionally, there is the risk of equipment failure, which is very harmful if the operator lacks the necessary training.
Unstimulated and stagnated responsibilities
There is no doubt that social factors can affect human team efficiency and human-robot cooperation.
Despite the fact that computerized systems efficiently increase activity, removing control from human specialists may alienate them from utilizing their skills.
When it comes to job satisfaction, our findings show that employees are no longer as engaged with their work as they once were, resulting in reduced job satisfaction and confidence.
Robots are continuously operating in perfect sync and are tasked with doing the vast majority of the labor while people are given menial duties. Our findings also show that employees' talents are underused because of robot-human cooperation.
For individual employees, job satisfaction is more attached to a personalized concept of a "good day's work for a reasonable day's salary" than to any chance of increasing one's position in problem-solving or decision-making.
What we found was that although the cooperation between humans and robots has improved productivity, efficiency and safety in the automobile industry – employee satisfaction levels have also been endangered.
Because of this, workers crave job environments with more interesting job responsibilities to increase self-confidence.
Collaboration going forward
It is vital to restructure automotive plants around collective automation that combines the strength and efficiency of industrial robotics with human imagination and innovation, to boost the economy of industrial factories.
It is also vital to pair robots with human workers in ways that do not trample job satisfaction and job security of autoworkers.
Achieving the highest economic efficiency is essential for factory owners. They must reorganize companies around collaborative automation – which combines the efficiency and power of industrial robots with human creativity – but in a way that ensures robots do not jeopardize industrial workers' well-being and employment security.
To read more about this research, you can access the full academic research paper titled: The collaborative work experience of robotics and human workers in the automobile industry in South Africa, published in the African Journal of Science, Technology, Innovation and Development.
— Bianca Ifeoma Chigbu and Fhulu Hastings Nekhwevha
Related posts:
*Top image source: Photo by macrovector - www.freepik.com