Female smartphone ownership lags in sub-Saharan Africa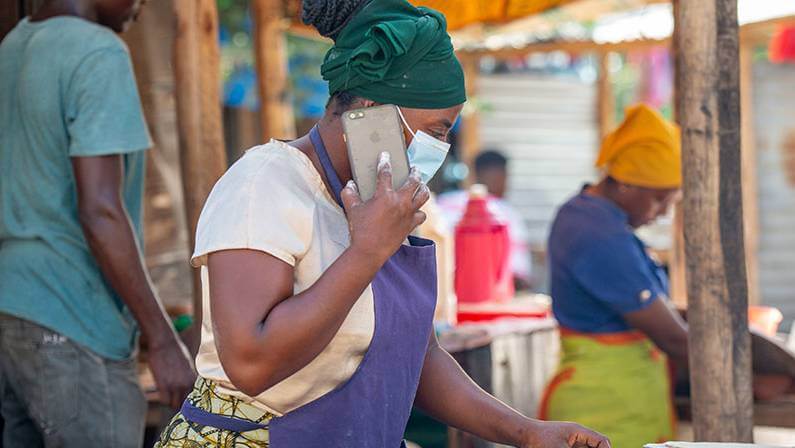 Women in sub-Saharan Africa are 30% less likely to own a smartphone than men in the region.
That's according to the GSMA's Mobile Gender Gap Report 2022 which found that this figure has grown steadily from 22% in 2017, due to men's smartphone ownership far outpacing that of women in the region. However, once women own a smartphone, their awareness and use of mobile Internet is almost on par with men.
Globally, the gender gap in smartphone ownership had been reducing across low and middle-income countries (LMICs), but the GSMA's latest data suggests progress stalled during the pandemic.
In 2017, women were 20% less likely than men to own a smartphone, which dropped to 16% in 2020 but increased again to 18% in 2021.
"This has been fueled primarily by a recent widening in the smartphone gender gap in South Asia but also by a continued increase in the smartphone gender gap in Sub-Saharan Africa," the report found.
Affordability is a critical barrier to mobile Internet access for male and female users alike, particularly handset affordability.
Affordability ranked especially high in sub-Saharan Africa where the price of a handset is the top barrier for both female and male respondents in Kenya, male respondents in Nigeria and female respondents in Senegal.
In Kenya, 39% of female mobile users – who are aware of mobile Internet but have not used it – cited the cost of a handset as the single most important barrier to mobile Internet adoption. In Nigeria, this was the top barrier for 28% of female respondents.
At the end of 2021, 84% of women in LMICs owned a mobile phone (including feature phones, etc.) compared to 89% of men, which translates to a gender gap of 7%.
"Despite a perception that mobile ownership is near universal, more than 372 million women in LMICs still do not own a phone, compared to 239 million men," states the report.
The GSMA also said the type of mobile device a person owns has a major impact on how (and whether) they use the Internet. Although it is possible to access the Internet on a feature phone, Internet use on a smartphone is typically much richer, more regular and varied.
Internet usage inches up
Overall, the 2022 report showed that after years of progress, growth in mobile Internet usage by women has also slowed.
The report found that only 59 million additional women in LMICs started using mobile Internet in 2021 compared to 110 million in 2020.
"This recent slowdown in the growth rate at which women are adopting the mobile Internet across LMICs is in contrast with continued high growth rates for men. It represents the first time GSMA data has recorded such a negative trend," the group said.
In total, only 60% of women in LMICs now use the mobile Internet, compared to 71% of men.
"For decades, mobile Internet has been transforming the lives of women across the globe, especially in low and middle-income countries. But the worrying statistics in our Mobile Gender Gap Report 2022 show that far more needs to be done to prevent women being left behind in the digital economy. Institutions, corporations and governments around the world need to focus on the importance of inclusion, and actively seek to combat such inequalities," said GSMA Director General Mats Granryd.
Across LMICs, the report shows that the mobile Internet gender gap narrowed every year from 2017 to 2020, from 25% to 15%, but ticked up to 16% in 2021 – which equates to 264 million fewer women than men using mobile Internet in these countries.
Regional laggards remain
Sub-Saharan Africa and South Asia still have the widest gender gaps in mobile Internet usage globally, at 37% and 41% respectively in 2021, while the Middle East and North Africa's mobile Internet use gap was 16% last year – in line with the stat for LMICs overall.
The mobile Internet gender gap in sub-Saharan Africa has not shown much improvement in recent years – remaining fairly flat each year since 2017, at either 36% or 37%. In 2021 there were still 192 million women in sub-Saharan Africa not connected via mobile Internet.
---
Want to know more about digital inclusion in Africa? Check out our dedicated Digital Inclusion content channel here on Connecting Africa.
---
The commercial opportunity for the mobile industry when including women is also substantial. In 2019, GSMA research estimated that closing the gender gap in mobile ownership and use in LMICs could deliver $140 billion in additional revenue to the mobile industry over a five-year period.
In Africa, closing the gender gap in mobile ownership and usage could generate a 10%-41% revenue increase for the mobile industry in the countries surveyed.
The annual GSMA Mobile Gender Gap report is funded by the UK Foreign, Commonwealth and Development Office and the Swedish International Development Cooperation Agency via the GSMA Mobile for Development Foundation.
Related posts:
*Top image is of a woman using a smartphone. (Source: GSMA)
— Paula Gilbert, Editor, Connecting Africa