Pandemic eats into Safaricom's M-Pesa revenue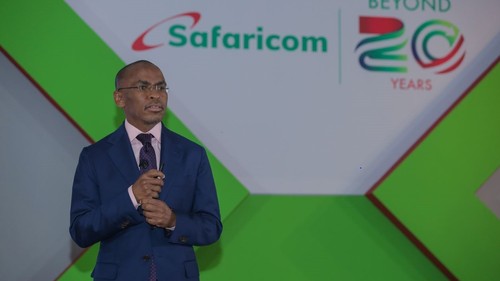 The COVID-19 pandemic impacted Safaricom's full-year core earnings as it saw declines in revenue from voice services and its financial services platform, M-Pesa.
Kenya's biggest telecoms operator saw earnings before interest and tax (EBIT) drop 5.3% year-on-year (YoY) to 96.16 billion Kenyan shillings ($898 million) in the year ended March 31, 2021. This followed similar declines for the half year .
"The COVID-19 pandemic brought about socio-economic challenges that disrupted our customers strained the consumer wallet and businesses across the country. We were not spared either. The unpredictable times affected our business operations resulting in subdued financial performance," said Safaricom CEO Peter Ndegwa.
Despite M-Pesa customers increasing 13.6% YoY, to 28.3 million, M-Pesa revenue dropped 2.1% to KES82.65 billion ($771 million), although the telco did see a recovery in the second half of the year.
The drop comes after the financial services platform reduced tariffs on small peer-to-peer transfers because of a government directive aimed at curbing the spread of the coronavirus by reducing cash usage in the market. Waiving fees on small M-Pesa transfers saw Safaricom process free transactions worth KES4.4 billion ($41 million).
M-Pesa accounted for 33% of the total service revenue down from 33.6% last year.
Voice revenue declined by 4.6% to KES82.55 billion ($770.4 million) and messaging revenue also declined by 11.7% YoY, to KES13.6 billion ($127 million). Voice and messaging make up 38.4% of service revenue.
Active voice customer average revenue per user (ARPU) declined 10% YoY, despite outgoing voice minutes per subscriber jumping 19% and incoming minutes growing 16.2%.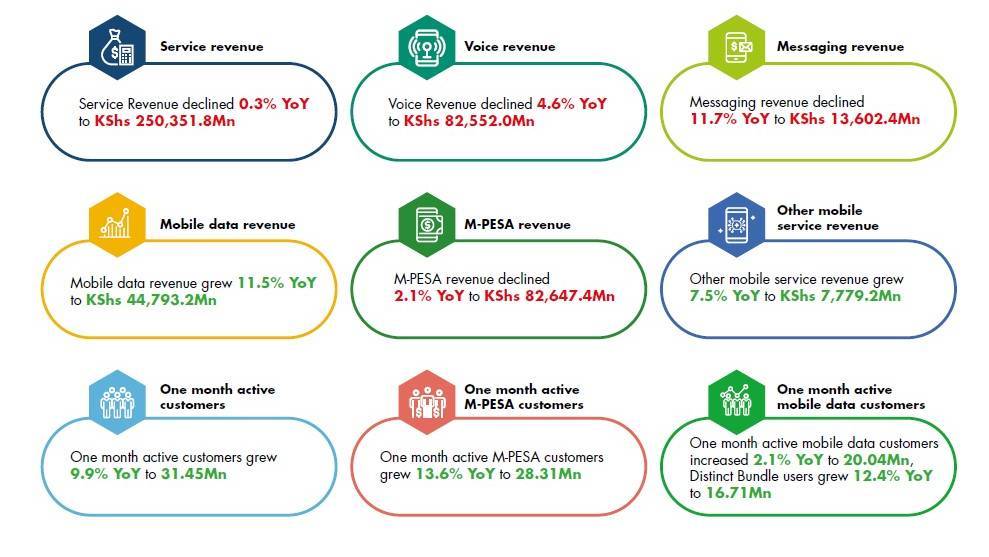 Service revenue saw a slight decline of 0.3% to close at KES250.35 billion ($2.34 billion). This was offset by good growth in the data market, with data revenue growing by 11.5% for the year, to KES44.79 billion ($418 million). The data customer base also increased 8.1% to 23.77 million.
The company – partly owned by South Africa's Vodacom and the UK's Vodafone – said on Thursday its total one-month active customer base had grown to 31.45 million, an almost 10% jump in the year.
"We remained resilient in a disruptive year, demonstrating strong operational capacity, diligence and commitment in supporting the country, our customers and shareholders through this uncertain time. Our immediate focus in the year has been to ensure that network capacity, operations and financial services are prioritized to limit disruptions," added Ndegwa.
During the year, the company introduced the Pochi la Biashara, M-Pesa Business App for micro and small-medium enterprises (MSMEs), as well as Bill Manager, Merchant Transacting till and Self On-Boarding process. Safaricom has also announced that its planned consumer M-Pesa App will be launched in the next few months.
Safaricom launched 5G trials in April 2021 for individual and enterprise customers and said it would expand 5G sites to more than 150 across nine towns over the next 12 months. Safaricom believes 5G will supplement its growing fiber network.
Active 4G devices on the network also grew almost 40% YoY to 8.5 million, and data customers using more than 1GB per month grew 31% to 6.1 million.
"Despite a tough financial year, the company is committed to investing in the business and maintaining a consistent dividend payout ratio in line with our dividend policy," Ndegwa added.
Related posts:
*Top image is of Safaricom CEO Peter Ndegwa. (Source: Safaricom)
— Paula Gilbert, Editor, Connecting Africa