Safaricom contributed 6% of Kenya's GDP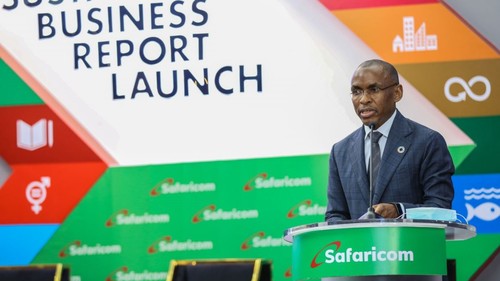 Safaricom contributed 6% of Kenya's gross domestic product (GDP) over the past financial year.
This is according to the Kenyan operator's Sustainable Business Report for 2020, which showed that the company's social impact was valued at KES 654 billion (US$6 billion) for the year, which is nine times the financial profit the company earned during the year.
Kenya's GDP in 2019 was $95.5 billion, according to the World Bank.
Safaricom said it added economic value worth KES 358.6 billion ($3.3 billion) to the Kenyan economy, during the past financial year, through operations and taxes. It also sustained more than 1 million direct and indirect jobs, an increase from 979,000 jobs the previous year.
"Since 2012, we have been documenting our sustainability journey because we believe in holding ourselves accountable by sharing our successes, our challenges and our constraints in a public, transparent and open manner," Safaricom CEO Peter Ndegwa said at the report's launch in Nairobi. "We also publish this report because we believe that we have a duty to raise awareness of the sustainability challenges we face as a society and to ensure that these remain part of the discussion in Kenya and internationally.
"Against the backdrop of the continued disruption we face in the telecommunications industry, we also had to contend with the impact of the COVID-19 pandemic during the later stages of the year", he added.
Safaricom said it has contributed more than KES 6.5 billion ($60 million) in money, goods and services to the fight against the COVID-19 pandemic so far.
The telco now has 35.6 million customers in Kenya, an increase of 3.8 million consumer customers during the year. The operator also has 24.9 million M-Pesa customers, a 10% increase year-on-year, and 22 million Kenyans are now mobile data users.
The report shows that 74% of the company's total spend in the year went to supporting local suppliers, up from 67% in the previous financial year.
Safaricom invested KES 36 billion ($331 million) in infrastructure this year, providing over 94% of Kenya's population with 3G coverage, over 77% of the population with 4G coverage, and 96% of Kenyans with 2G coverage though a total of 5,314 network sites.
Safaricom extended its fiber-optic cable footprint to 9,000km and has connected 142,000 homes, and 11,911 businesses to its high-speed Internet service to date. The operator has also connected over 10,000 businesses through its 4G LTE service.
It now has over 700,000 Internet of Things (IoT) connections in asset management, utilities and telematics, such as real-time monitoring of stock in cooler cabinets.
*Top image is of Safaricom CEO Peter Ndegwa speaking during the telco's 2020 Sustainable Business Report launch in Nairobi. (Source: Safaricom)
— Paula Gilbert, Editor, Connecting Africa