Telkom SA continues strong mobile growth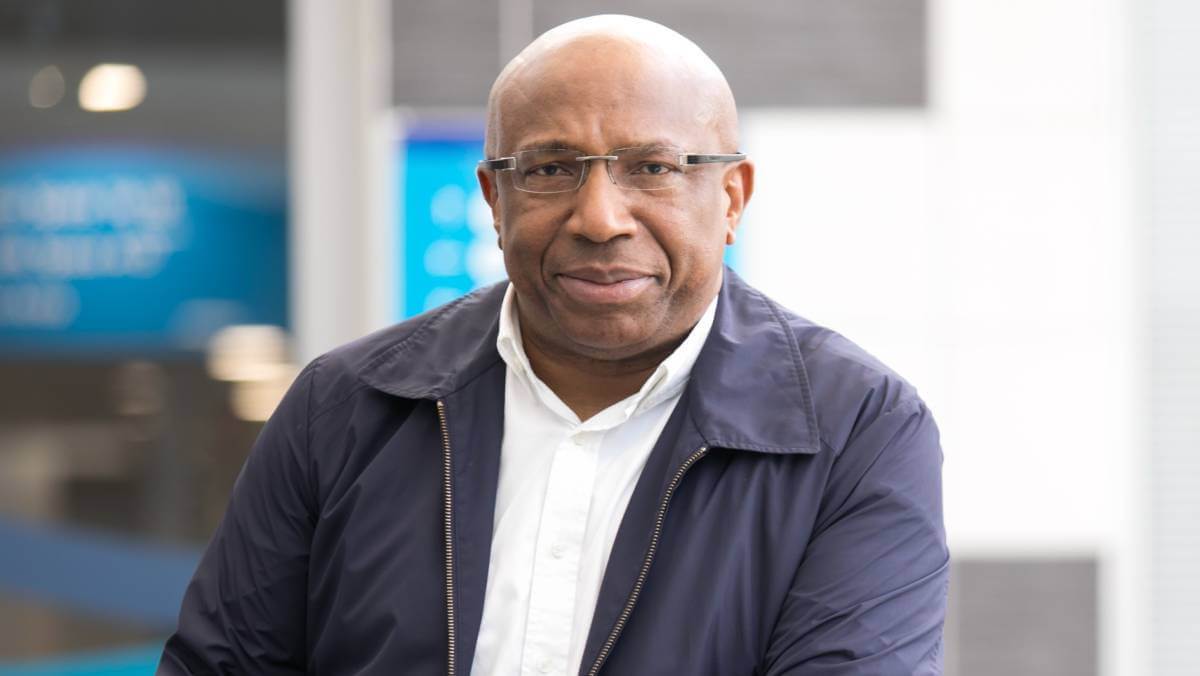 Telkom South Africa's mobile business has continued its strong growth trajectory, with mobile data traffic growing 81% over the past six months and mobile data revenue increasing by 53.8%, to R6 billion (US$386 million).
Telkom's mobile customers increased by 19% to 13.7 million, with 2.2 million customers added during the period.
This firmly makes Telkom South Africa's third biggest mobile operator, ahead of Cell C which recently saw its customer base decrease by 28% from almost 16.3 million in the first half of 2019 to 11.7 million this year.
Telkom also recorded 23.3% growth in mobile broadband subscribers to 9.6 million, and these subscribers now make up over 70% of all Telkom mobile users.
"We've been really focused on how we grow our data footprint, as that's the significant view we have taken about the future. That is also shown by how data traffic itself has grown in mobile by up to 81%, which is driven by a significant increase of people working from home, and also learning from home," Group CEO Sipho Maseko said during a live-streamed results presentation.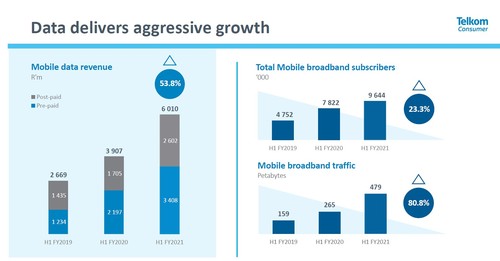 Despite the strong mobile growth, Telkom's overall revenue for the six months ending September 30, 2020 was 0.4% down to R21.4 billion ($1.38 billion) in the face of difficult trading conditions brought on by the COVID-19 pandemic.
However, earnings before interest, tax, depreciation and amortization (EBITDA) grew 6.3%, to R5.9 billion ($379 million), and headline earnings per share (HEPS) were 25.4% up, to 217.5 cents (13.98 US cents), and basic earnings per share (BEPS) grew by 29.5%, to 219 cents (14.08 US cents), as expected, driven by growth in operating profit.
"Telkom's decision to invest in infrastructure ahead of demand enabled us to meet the surge in demand and weather the acceleration of the decline in fixed voice revenue during the national lockdown," Maseko added.
Mobile mega-growth
Blended average revenue per user (ARPU) increased by 36.7% to R113 ($7.26), which is the highest ARPU ever recorded by Telkom. This was mainly due to unprecedented data demand induced by COVID-19.
Prepaid customers also grew 17.9% to 11.1 million with prepaid ARPU increasing by 36.3% to R84. The postpaid customer base increased 24.1% to 2.6 million with ARPU growing 18.6% to R211.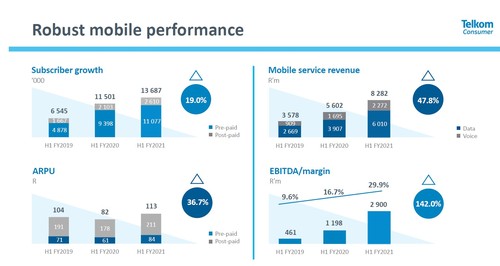 "Our strategy in terms of being a data-led network continues to really bear fruit. If you look at the number of sites that are integrated, that has grown significantly, and leading up to COVID-19, we purposefully had executed a 70% decommissioning of 2G, freeing up the spectrum for LTE utilization and adding capacity to the network. I think that that actually helped us quite a lot to be able to carry the [increased] traffic that we saw in mobile," Maseko said.
Maseko said that temporary spectrum that was assigned by the Independent Communications Authority of South Africa (ICASA) enabled Telkom to be able to carry the increased data traffic.
"On the negative side, because of the lockdown, our network rollout was a bit slow, it was not easy to get our entire supply chain to work in the way that would have wanted. Also, our distribution channels were closed during the lockdown, resulting in slower handset growth," he said.
He did say that Telkom aggressively rolled out fiber backhaul to its towers, which paid off, allowing it to "effect very quick backhaul upgrades at sites where additional traffic was anticipated."
"We also completed the upgrades of the existing mobile core network so that we can be 5G ready; we know that the spectrum will be allocated at some point in the new calendar year. This allows us as Telkom to be able to seamlessly integrate the first 5G sites that we used as commercial pilots in the market earlier on," he said.
Other divisions struggle
While the mobile business flourished, some of Telkom's other sectors were not so lucky and were negatively impacted by the SA national lockdown and economic slowdown due to COVID-19.
BCX and Telkom SMB (which is now called Yep) saw a decline of 11.3% and 25% respectively, driven by a decline in enterprise fixed voice revenues.
The decrease in fixed voice volumes also impacted its wholesale division, Openserve, negatively with revenue declining by 13.6%, a shift driven by a 22.7% decline in fixed voice revenue compared to the prior period.
"Despite this, Openserve maintained the highest connectivity rate in the market through improved fiber to the home connectivity rate from 43.6% in the prior year to 53.8%," the group said.
Property group Gyro's masts and towers revenue increased 7.7% to R628 million ($40.4 million) despite the slowdown in the permitting and construction process due to the national lockdown.
*Top image is of Telkom Group CEO Sipho Maseko (courtesy of Telkom).
— Paula Gilbert, Editor, Connecting Africa