M-Pesa has almost 99% market share in Kenya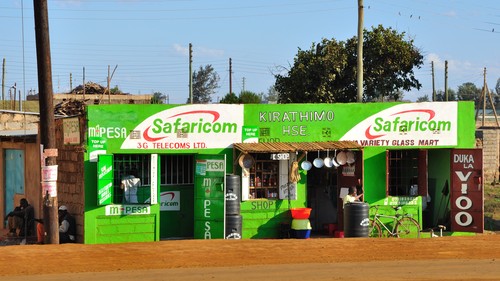 Safaricom is still extremely dominant when it comes to Kenya's mobile money market, with almost 99% market share, but the operator saw a slight decline in overall mobile subscriber market share in the first quarter of 2020.
According to the Communications Authority of Kenya's (CA's) quarterly Sector Statistics Report, M-Pesa's share of mobile money subscriptions was 98.8%, whereas Airtel Money and T-Kash recorded negligible market shares of 1.1% and 0.05% respectively for the quarter ended March 31, 2020.
During the quarter, the number of active registered mobile money subscriptions in Kenya stood at 29.1 million while the country had just over 202,100 active mobile money agents, of which over 173,000 were M-Pesa agents.
However, the CA report revealed that during the quarter Safaricom's market share in terms of mobile customers declined by 0.3%, but it was still the leading operator with 64.8% overall market share.
Similarly, Telkom Kenya lost 0.4% to post a market share of 5.8%. Airtel, however, gained 0.7% worth of market share boosting its cut to 26.6% and the market share for Equitel remained unchanged at 3.1%.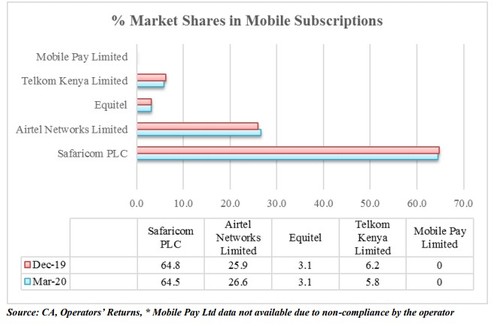 At the end of March, the number of active mobile subscriptions in the country stood at 55.2 million, which was a mobile (SIM) penetration rate of 116.1%. Of those, about 35.6 million were Safaricom customers; almost 14.7 million belonged to Airtel; just under 3.2 million were Telkom Kenya subscribers; and the remaining 1.7 million were Equitel customers.
Prepaid still dominates the Kenyan market with about 50.9 million prepaid subscribers versus 4.3 million postpaid customers overall. However, this may be changing as the quarter did see about 3 million Kenyans move from prepaid to postpaid contracts, particularly for operator Telkom Kenya.
Kenya's total broadband subscriptions increased by 0.9% in the quarter, to 22.3 million. Mobile broadband subscriptions, however, make up 97.6% of the total broadband subscriptions.
Despite the mobile broadband dominance, the country's operators saw an overall decline of 0.7% in data/Internet subscriptions in the quarter, down to 39.3 million, from 39.6 million subscriptions reported in the previous quarter.
This was mainly attributed to a decline in mobile data subscriptions for Telkom Kenya due to measures taken by the company to scale down on investments in anticipation of the proposed Airtel-Telkom merger.
Safaricom also saw a slight decline in mobile data subscriptions due to "stiff competition from other operators," the CA said.
Kenyans are still using a lot of mobile data and the CA found that the volume of mobile data consumed in the quarter increased by 4.1% to 110.6 million gigabytes. Meanwhile, in the voice market, local outgoing mobile voice traffic also increased by 2.3% during the quarter, to 15.3 billion minutes.
COVID crisis
All of the statistic are, however, for the quarter before the COVID-19 pandemic took hold of the African continent. According to Worldometer data, as of Monday, Kenya had 7,886 confirmed COVID-19 cases and 160 deaths from the virus, after conducting 189,263 tests.
The CA said that the COVID-19 outbreak "has brought an unprecedented impact on the economy by affecting businesses across industries" and that it expects the impact on the ICT industry to be more evident in the quarter from April to June 2020. It said there was "negligible impact" during the first quarter because the government only started rolling out measures to curb the spread of the virus from mid-March 2020.
The Authority believes that safety measures like working from home and using cashless payment modes like mobile money services "is expected to have a huge impact on demand and supply for telecommunication services going forward."
— Paula Gilbert, Editor, Connecting Africa