Making Ideas Happen in 'Digital Nigeria': Nigeria Com Interview with iDeensker's Somze Agama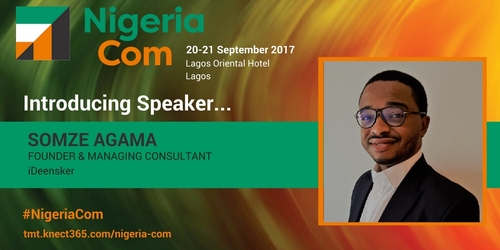 Ahead of
Nigeria Com 2017
, Connecting Africa has been profiling some of the most influential figures in Nigeria's technology and telecoms sectors. With the countdown to the 9th annual event underway, Connecting Africa caught up with Somze Agama, Managing Consultant at iDeensker, to discuss emerging digital applications and both the challenges and opportunities that will be encountered by companies in the growing digital sector.
Connecting Africa: Can you tell us a bit about iDeensker and its ethos?
Somze Agama: iDeensker means to make 'Ideas Happen,' which embodies what we do and why we exist. Ideas are like foetuses -- whether it's a new product, a service, a change in direction, or perhaps the need for an improvement, success depends on how these ideas are conceptualized, nurtured and eventually delivered. We are the nurses, guiding businesses and seeing them through every stage of the conception process. Our job is to work with businesses to ensure a successful birth.
iDeensker brings ideas to life by providing the strategy, analytics and research that means only great ideas are birthed, and these ideas are then successfully deployed. We provide strategic renewal for existing firms and strategic planning for new startups. Through analytics and research, we develop a better understanding of customers and how they interact with the product or service. Since we develop analytics specifically for each client, our analytics provides more depth and richness than off-the-shelf options. We also find, quite frequently, that we must speak with our client's customers, so we make use of ethnographic research, surveys and interviews in our interactions with end-users.
Analytics and research provides an intimate knowledge of the customer and helps us better understand the marketplace. The resulting insight guides our business direction.

Connecting Africa: At this year's Nigeria Com, you will be participating in a panel discussion focused on exploring new applications and markets. What are some of the most notable challenges faced by emerging digital applications in recent years?
Somze Agama: There are several challenges faced by digital applications, so it is perhaps better to address them from the perspective of the ecosystem rather than the product themselves. At the business level, difficulties such as the ease of accessing funding or finding the right skillset can break the business at an early stage. There has been some improvement in funding compared to five years ago, thanks to the interest from global technology players, international and local angel investors, and incubators, who have doubled down on their search for Nigerian startups.
The country's poor infrastructure and poor Internet connectivity affect the ecosystem of some applications by increasing the cost of operations or becoming a barrier to customer acquisition. E-commerce providers, for instance, struggle in Nigeria due to the poor quality of transport infrastructure, road traffic delays and the difficulty in locating addresses due to poor street numbering. Such challenges hampers efficiency, increases operating cost and produces a poor customer experience. Streaming and video-on-demand apps require broadband access. The regulatory body, NCC (Nigerian Communications Commission), estimates that only 16% of mobile subscribers have access to broadband Internet at speeds of 1.5 Mbit/s or higher, preventing potential customers from making use of such apps or giving a poor experience to those that can. Apart from the unavailability of Internet access and poor data throughput, the cost of data is another hurdle. The cost of data, at around US$3 for 1Gbyte, is a little steep for a country with half of its population living on less than $1 per day.
Adoption is also a challenge, but is no different than anywhere else in the world. Addressing foundational issues such as relevance, user experience, and marketing could improve adoption rates.

Connecting Africa: What can companies do to combat the intensifying competition in digital services?
Somze Agama: We are living in a day and age where it is near impossible to run a monopoly. Access to a huge wealth of information has helped customers become more informed about available options for digital applications or services. Companies must begin from their customers and have a clear understanding of what customers require, how customers make use of the service and what could be done to get [their product or service] selected over competitors. This focus is critical for business success, and this is where iDeensker helps. Through analytics, we help businesses know their customers, continuously address their changing needs and make it easier for customers to select their service.

Connecting Africa: Your panel discussion will also cover the possibility of new technologies unlocking new revenue streams. To what extent can the application of new technologies compensate for Nigeria's declining oil revenues?
Somze Agama: Depending on the focus -- either contribution to government income or the GDP -- we may be way off or we may be close. Oil revenues account for 70% of government income and 90% of foreign exchange. So, in this respect, there is a bit of work required to get the country to the place where the technology industry compensates for declining oil revenues. If, however, we consider that Telecoms and ICT was the fourth highest single line contributor to the 2017 Q1 GDP, it becomes clear that technology is already a considerable part of the economy. In fact, in 2016, Telecoms and ICT was the third single highest contributor to the GDP ahead of crude petroleum and natural gas. The potential is enormous. We require a purposeful policy and sustained support to develop human capital, provide funding and create an environment where technology startups thrive.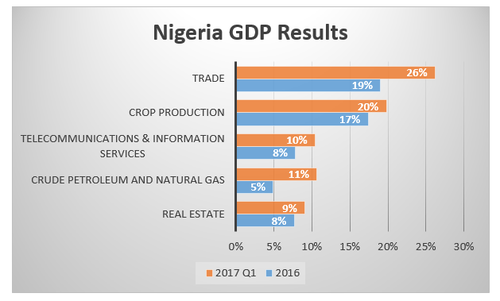 Connecting Africa: What are you most looking forward to about attending and speaking at Nigeria Com?
Somze Agama: I'm excited about meeting and speaking with industry influencers and leaders. The telecoms industry is going through a rather difficult period, and along with listening to the different opinions on what direction the industry should take, I believe, we require a more consolidated approach. Looking at the guest list, I believe we are going to have meaningful interactions concerning the challenges, and I hope that these discussions create the opportunity for some degree of collaboration towards addressing these challenges.
Connecting Africa: What are iDeensker's plans for the future?
Somze Agama: In the short term, we are focused on growing the analytics business and increasing brand visibility. Marketing in Nigeria remains largely traditional, but with analytics we can take this to a more targeted and personal level, improving customer experience and creating real differentiation. Our immediate focus is on providing analytics without requiring a radical change in an organization's current structure or processes.
Organizations must, however, transform from the current traditional structures to get the full benefits of data and analytics. Digital transformation requires changes to an organization's strategy, processes and structure. In the long term, we intend to help companies adopt their strategy towards digital transformation. It is crucial that companies have the strategy, visionary leadership and talent that enables their businesses become digital.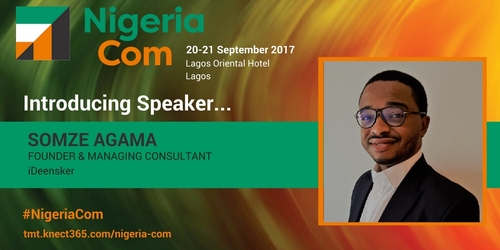 Nigeria Com is taking place between September 20-21 at the Lagos Oriental Hotel, Lagos. Find out more about how Nigeria Com is strengthening the networks and ICT of 'Digital Nigeria' here.
View the Nigeria Com agenda and speaker line-up here and book your delegate pass here.
Be part of the African tech and telco conversation:
Twitter
Facebook
LinkedIn
Instagram
— Rachael McKie, Connecting Africa Writer