Vodacom zero-rating what3words to help South Africans in emergencies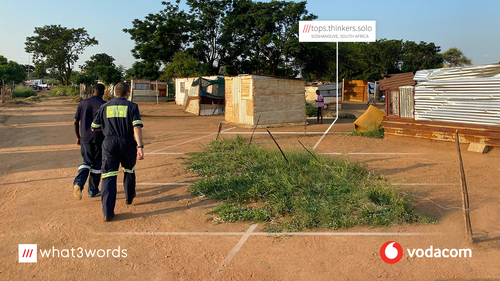 Mobile operator Vodacom and what3words – the company that has assigned each three-meter square in the world a unique three-word address – are partnering to help South African emergency services locate people even if they don't have an official address.
Vodacom is zero-rating the what3words emergency "find me" website for its more than 43 million subscribers across South Africa.
The technology may seem strange to some, but the UN estimates that 75% of countries in the world have a poorly maintained addressing system – or none at all. This is an issue across Africa and one that SA knows well, with large parts of the country still lacking spatial planning.
In emergency situations a lack of address can be a serious problem, whether you are in an informal settlement or on a hiking trail.
The cost of communications services is another struggle for Africans.
"We believe that not having airtime or data should never prevent you from receiving timely emergency service. Vodacom users can access the website for free with absolutely no concerns over data costs or data running out," Jorge Mendes, Vodacom's consumer business unit chief officer, told journalists on a media call.
The what3words technology – which is available as an app or online map – has divided the world into a grid of 3m squares, giving each square a unique combination of three words. For example "finishes.aura.moves" will take you to the front door of the what3words office in Johannesburg.
The free app and online map enable people to find, share and navigate to what3words addresses in over 40 languages including four of South Africa's 11 official languages (isiXhosa, isiZulu, English and Afrikaans).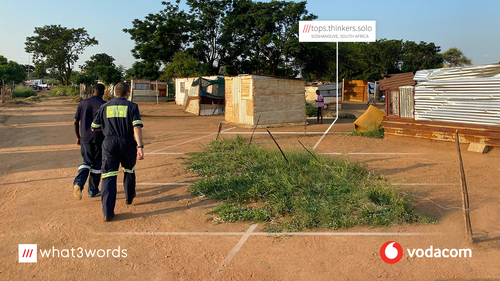 Life saver
The co-founder and CEO of what3words, Chris Sheldrick, said that what3words has seen significant adoption by emergency services around the world, including in South Africa.
"In South Africa, vast open landscapes, and informal settlements both suffer from lack of addressing, which makes it hard to find people in trouble. It's amazing to see Vodacom become the first telco in the world to support their emergency services like this – and at such a huge scale," he said in a statement.
In an emergency, a what3words address can be given to the call handler to identify precisely where help is needed. The free what3words app works offline, but when a caller does not have the app, emergency services text a link to the what3words emergency find me website which tells them the what3words address for the location. The caller then simply must read the three words on the screen of their smartphone or data enabled phone.
Vodacom and what3words have been piloting the tech for a few months now with the likes of Gauteng Emergency Medical Services, Western Cape Emergency Medical Services and even Sea Rescue South Africa. The what3words system has been used to locate over 1,300 callers in SA since early March this year.
"The what3words platform has already saved lives by helping our responders know exactly where the emergency is in our region," said JP von Benecke, deputy director of communications and advanced life support paramedic at Gauteng EMS.
"Some of the informal settlements we cover don't have street names, and locating the caller is incredibly challenging for our call handlers and teams on the ground. what3words and Vodacom have helped emergency services like ours move away from 'where are you?' 'what can you see?' and progress to 'we know where you are and we're on our way'," he explained.
Dr. Shaheem De Vries, the medical director of Western Cape Emergency Medical Services, told journalists that a consistent issue experienced during piloting was that some communities were reluctant to access the what3words site because of concerns over the cost of data.
"Even though it is a small site in terms of data usage, it was a consistent hurdle. By zero-rating the what3words site, Vodacom have completely removed that hurdle," he said.
Mendes said Vodacom also intends to enable the what3words tech in its other operations in Africa in the future.
"Our ConnectU platform, which is one of the ways you can access the what3words environment, is intended to roll out in our other markets as well. We see the needs there and there is no doubt that this would be very much part of those plans as we roll out the ConnectU mobi-site and platform across our different markets," he explained.
Vodacom has operations in Mozambique, Tanzania, Lesotho and the Democratic Republic of the Congo (DRC) and also owns a stake in Safaricom in Kenya.
Headquartered in the UK, what3words opened its Johannesburg office in 2017, and its address system is now being used by retailers like Dischem and the iStore for deliveries. South African emergency service partners who accept what3words addresses include ER24, the AA, City of Tshwane, HALO, NSRI, Namola and Helivac.
— Paula Gilbert, Editor, Connecting Africa