MTN Has Over 50% Market Share in 10 African Countries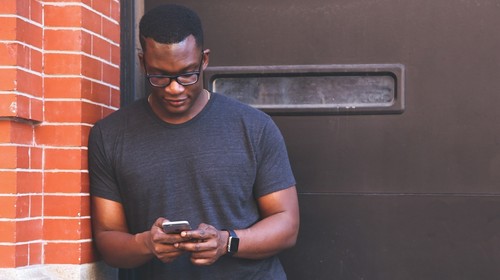 MTN dominates when it comes to market share in a large number of its operations across Africa. This is according to the mobile giant's own statistics published as part of its financial results for the six months ended June 30, 2019.
MTN operates in 21 countries in Africa and the Middle East and 17 of those are in Africa. According to the group's data sheets published alongside the results, the group has a market share of more than 50% in ten of those markets and of more than 30% in another six markets. Only in South Africa does the operator's share dip under the 30% mark, at 26.27%.
Countries where MTN has a particularly high market share include eSwatini (84.72%); South Sudan (60.64%); Guinea-Bissau (59.78%); Ghana (55.97%); Uganda (55.13%); Rwanda (54.61%); Benin (54.60%); Congo-Brazzaville (54.24); and Nigeria (50.49%).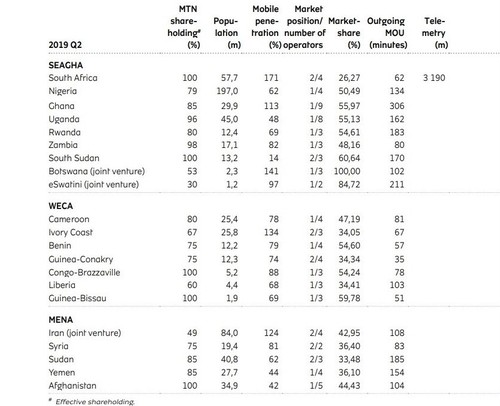 However, the operator's claim for its Botswana unit, Mascom Wireless -- which MTN is currently planning to sell for US$300 million -- is clearly a mistake. The group's stats, as shown in the table below, indicate that it has a 100% market share in Botswana, but in terms of market position is the number one operator out of three. So with two other operators in the game, 100% market share seems very unlikely.
According to statistics from market research company Ovum, Mascom's market share in Botswana is closer to 50%, while Orange has almost 35% and Botswana Telecom makes up the other 15%.
MTN appears to have realized its original error: Since the results were released, the MTN website now offers a downloadable spreadsheet titled "data-sheets updated" which shows the Botswana market share as 51.46%, which seems much more in line with Ovum's statistics, while the data for the other markets remains unchanged.
The MTN Group also claims to be the number one or two operator in every one of its 21 operations.
Another interesting stat revealed in the data sheets is the mobile penetration percentage in the different African countries, which varies hugely between them: For example, South Africa has a mobile penetration rate of 171%; Botswana's is around 141%; Ivory Coast's is 134%; and Ghana sits at 113%. Several countries are moving towards 100% penetration: eSwatini (formerly Swaziland) is at 97%; Congo-Brazzaville at 88%; Zambia at 82%. On the other end of the spectrum, mobile penetration in South Sudan is just 14%.
— Paula Gilbert, Editor, Connecting Africa