Huawei & SA Government Pledge to Train Thousands in 5G & 4IR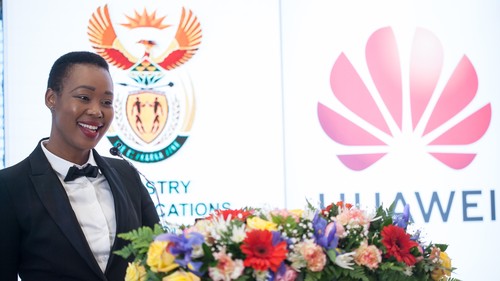 Huawei South Africa and the Department of Communications and Digital Technologies (DCDT) will launch free online and on-site training in 5G and fourth industrial revolution (4IR) technologies, targeting 6,000 learners, who are either postgraduate ICT students or practitioners.
The news came out of a joint DCDT and Huawei Seeds for the Future send-off ceremony in Johannesburg on Thursday, which sees ten university students from various institutions across South Africa depart on a study trip to China.
Huawei SA CEO Spawn Fan said that the company was finalizing its talent development strategy for 4IR-SA to contribute to DCDT Minister Stella Ndabeni-Abraham's goal of training one million ICT "talents" by 2030.
"We recently launched a free 5G training course at University of Pretoria, the University of the Witwatersrand and the University of Johannesburg and plan to take that to more institutions," he said.
"We are now partnering with the Department of Communications and Digital Technologies -- to deliver a 5G and 4IR online training platform with an accredited certification for 5,000 ICT students and professionals in South Africa. We aim to train a further 1,000 students in our on-site program," he explained.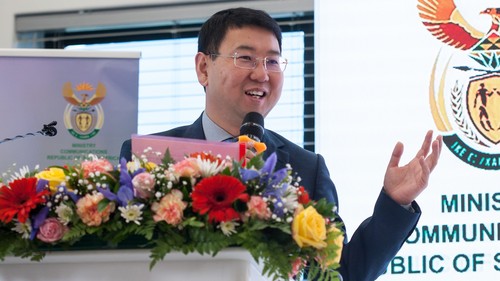 Fan also referenced Huawei's recent troubles in the US where it has been added to a trade blacklist due to what the US perceives to be national security risks in its equipment.
"For Huawei it is our belief that what can't beat you will make you stronger. And especially under this tough situation that comes from Mr Trump and the US, they are trying very hard to stop us and we need to keep fighting," he said.
"I believe that you can already see the result of Huawei's performance in the first half of the year and we can also forecast [more growth] in the year-end because of the years of investment into research and development and because the years of hard work of our employees," he added.
Huawei saw first-half revenue grow 23.2%, to 401.3 billion yuan ($58.3 billion), with the devices unit for the first time accounting for more than half of all sales.
South African President Cyril Ramaphosa last month came out in support of the Chinese company calling the US "jealous" of Huawei and describing Huawei as a "victim" in an ongoing US-China trade war. (See African Operators, Governments Show Faith in Huawei.)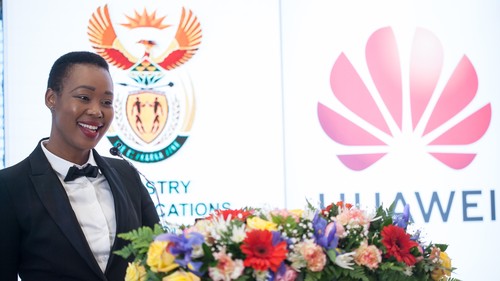 Ndabeni-Abrahams also spoke at the event and said that at the heart of the 4IR conversation needs to be a people-centered response that speaks to jobs, skills and broad economic participation.
"As we all talk about the skills mis-match in the country, as we all talk about the opportunities that are presented to us by the fourth industrial revolution, you will provide that technological side that resonates through the human element. You're not just going to be tech people who don't think of the social impact," she told the students.
Ndabeni-Abrahams has for some time talked of "building a capable 4IR army" to ensure that South Africans, and especially the youth, are equipped to take advantage of new digital technologies, unlock future jobs and drive competitiveness.
"Through multilateral engagements such as in BRICS, South Africa has resolved to cooperate at various levels including capacity building, skills development and research.
"We will be training 1 million young people in data science and related skills. And the reason we focused on that is simply because the new oil or the new currency in the fourth industrial revolution is data. Therefore, we've got to make sure that we don't miss out. We've got to make sure that we have the people who know how to analyze and know how to mine the data," she said.
Huawei Seeds for the Future is a global initiative which has been operating since 2008 and aimed at bridging the gap between theory and practice and to develop local ICT talent through knowledge transfer and hands-on experience. So far over 4,700 students from 108 countries worldwide have participated in the program. 2019 is the fourth year that South Africa students have participated in the program.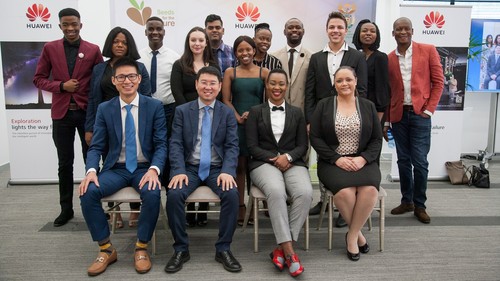 — Paula Gilbert, Editor, Connecting Africa