Vodacom Mobile Tech Empowering SA Women Farmers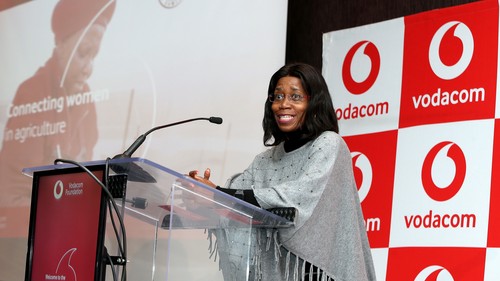 A digital literacy program designed to help female farmers adopt and use mobile technology is seeing success in South Africa, with plans for further expansion in the country.
The Vodacom Foundation, in partnership with UN Women and South African Women in Farming (SAWIF), announced at an event in Johannesburg on Tuesday that they were taking the Women Farmers Programme countrywide in South Africa after a successful pilot in four provinces.
The pilot program has been running since 2018 and has seen over 600 female smallholder farmers in rural areas in Limpopo, KwaZulu-Natal, Free State and Eastern Cape provinces trained in digital literacy to empower them to take part in the digital economy.
The training included teaching the farmers how to use social media for their businesses as well as Vodacom's Connected Farmer app. The app provides live, real-time information on what farmers are producing in which regions, and also helps to ensure that small-scale female farmers participating in the program have access to input and output markets and are able to meet the conditions of retailers.
"With this initiative we will be able to support female farmers in staking their claim in the agriculture sector through the use of technology, which in turn can help to reduce poverty, ensure food security and boost the industry's contribution to the economy," said Takalani Netshitenzhe, chief officer for corporate affairs at the Vodacom Group.
She said that Vodacom had so far spent R4 million ($262,000) on the training program and the development of the app is costing around R380,000 ($25,000). She said that Vodacom's CEO Shameel Joosub had instructed the team that the launch of the app should be at zero cost to the farmers and so the Vodacom Foundation had absorbed the cost.
"A study by the World Economic Forum shows that women account for nearly half of the world's smallholder farmers and produce 70% of Africa's food. While some research shows that if women had the same access to productive resources as men, they would increase the yields of farms by 20-30% and reduce hunger by up to 17%," Netshitenzhe added.
"As can be seen, women are playing an active role in the food production chain and our main objective with this program is to provide them with the necessary tools, so that more and more women can enter the lucrative sector and be part of the agriculture food supply chain and reap the economic benefits."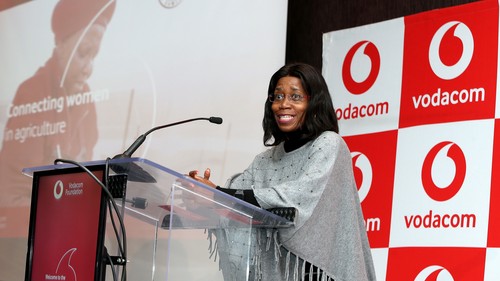 The program, created in partnership with the United Nations Entity for Gender Equality and the Empowerment of Women and SAWIF, leverages Vodacom's ICT capabilities to train women from rural areas in digital literacy to enable them to use technology to connect to more opportunities.
"We are glad that the Vodacom Foundation has come on board to provide critical digital literacy skills training and ICT equipment to women farmers. This partnership together with the World Food Programme and SAWIF is an important step in ensuring that women farmers, particularly smallholder farmers in rural areas, are equipped with the tools and knowledge to successfully participate in the agricultural value chain," said Anne Githuku-Shongwe, UN Women South Africa multi-country office representative.
The Connected Farmer app, which was introduced in 2016 by the Vodacom enterprise business, is now being customized in collaboration with SAWIF to help meet the needs of women farmers in South Africa and will be implemented in four phases.
The first phase is providing digital literacy to the farmers to prepare them for the use of the app. The second phase would be to digitize the SAWIF Women farmers' database and to connect the farmers with retailers. The next phase would be to minimize the role of SAWIF by giving the women direct access to the markets. The last phase would be to integrate Vodacom's financial services offerings.
Interestingly, Netshitenzhe said one of the reasons behind the push for the Women Farmers Programme in South Africa was that Vodacom noticed that the Connected Farmer app was not thriving in South Africa but was doing so further afield.
"It was actually thriving in Kenya through Safaricom, where it is uplifting women from subsistence farming to participate into the mainstream economy. And in Kenya, it has advanced so much that it is now integrated with the M-Pesa mobile money platform," she explained.
"So we went to SAWIF and we said we want to empower South African women to ensure that we break these barriers to access," she said, adding that Vodacom found that digital literacy was still a problem that needed to be remedied through training.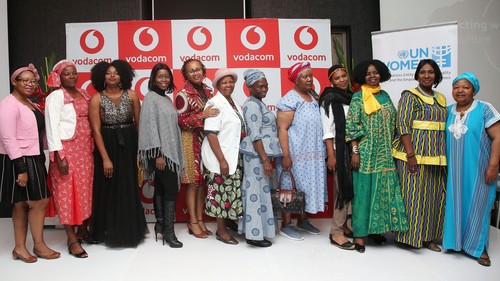 "At SAWIF we are eager to see women play a central role in the agriculture value chain and supply our produce to both the local and international markets. Since we partnered with Vodacom and UN Women we feel very confident that we will achieve our dreams," said SAWIF president Deborah Motuku.
"The digital and financial training from Vodacom is preparing us for bigger things and we are now confident in using digital platforms to transact, communicate and market our produce," she added.
— Paula Gilbert, Editor, Connecting Africa