Women in Focus at East Africa Com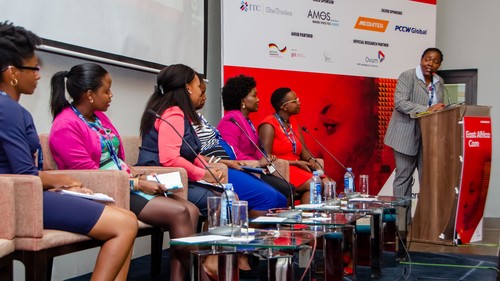 Increased inclusion of African women in the tech landscape was one of the key focus areas at the recent East Africa Com event that took place in Nairobi, Kenya.
This was the 16th year that the event ran in East Africa, with around 700 attendees, and this year 40% of the speaker line up was women. The annual telecom and tech conference this year included the important theme of "unleashing the economic potential of women in technology."
"At the conference, the emphasis was placed on bringing women into the tech sector and using technology to enable women to participate in economic activities to a greater extent," says Dobek Pater, director at Africa Analysis and conference chair.
"This would unlock a lot of additional value and grow the global economy, especially in developing markets."
The East Africa Com conference has developed a partnership with ITC SheTrades, an initiative of the International Trade Centre, a joint agency of the World Trade Organization and the United Nations.
The SheTrades initiative aims to connect 3 million women to market by 2021, facilitating opportunities for women entrepreneurs, supported by a web and mobile digital platform.
The event also saw a partnership with Women in Tech Africa, which aims to create more female leaders and role models in Africa while supporting African growth through technology. The group has a membership of women in over 30 countries in Africa and has physical chapters in Ghana, Kenya and London with launches in South Africa and Nigeria planned for this year.
Sylvia Mukasa, country co-founder and chapter lead for Kenya at Women in Tech Africa, told Connecting Africa that there is an opportunity to proactively shape the Fourth Industrial Revolution to be both inclusive and human-centered. She believes it is important to improve diversity and inclusion in the African tech space.
"Over half of the world's population still has no access to the Internet. That's approximately 3.9 billion people, mostly in developing countries and the majority of them are girls and women. "Research estimates that women's chances of benefiting from the advantages of ICTs are one-third less than men's. The digital gender gap remains largest (at 31%) in the world's least developed countries. In Africa, only 12% of women are online," she adds.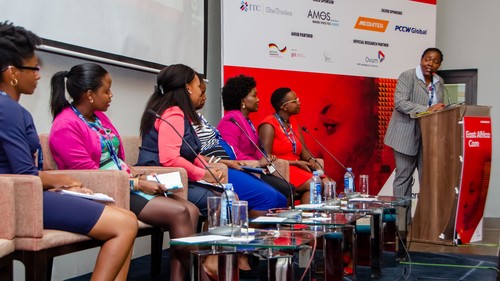 Key themes and takeaways
The main theme at East Africa Com this year was "accelerating digital transformation to strengthen East African economies."
Danson Njue, a research analyst in Ovum's Middle East and Africa team and a speaker at the event, says this year saw an increased focus on data analytics in the regional digital transformation agenda. He says that the role of data analytics in key sectors such as education, housing, agriculture and transport stood out.
"Democratization of data to make it more readily available for analysis to solve socio-economic problems through development of correct policies, yet remaining mindful of the requirement for data anonymity," was another key takeaway for Pater.
"The eco-system was well-represented at the conference, with organisations from the ICT industry, financial institutions, parastatal utilities, government entities and academia inter alia. Theoretical discussions were supported by ample examples of current uses cases for new technologies in East Africa," says Pater about the event.
According to Njue, a standout speaker this year was Dr. Bitange Ndemo, chairman of the blockchain and artificial intelligence (AI) taskforce of the government of Kenya, and a highlight of the event was his keynote speech about utilizing blockchain and AI technologies to enhance public service delivery.
"Public service delivery hasn't been satisfactory at all in the East African region and it is very encouraging to see governments begin to harness the power of digital technologies to enhance service delivery," Njue says.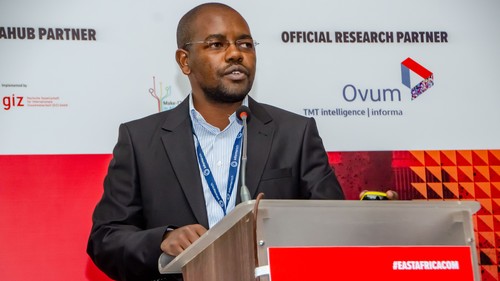 Pater believes that "in a sense, Africa is already well suited to the Fourth Industrial Revolution. Out of necessity, and limited formal jobs, the gig economy is alive and well. New technologies such as AI, ML and mixed reality innovation will drive these opportunities and create more formal jobs," he says.
"An example is the recent launch of the Africa Development Centre by Microsoft in Nairobi, Kenya and Lago, Nigeria which will bring $100 million of investment and 500 engineering jobs over the next five years. Africa can take advantage of its young population to drive this growth but it first needs to create capacity."
Mukasa believes the Fourth Industrial Revolution is about much more than technology: "It is an opportunity to unite global communities, to build sustainable economies, to adapt and modernize governance models, to reduce material and social inequalities, and to commit to value-based leadership of emerging technologies."
Regulating new technology
Pater says that one of the recurring discussion points at the conference revolved around regulating the new technologies and services in the digital world.
"One first needs to understand what it is that one tries to regulate, which is what the governments and regulatory authorities in many markets are currently trying to achieve. Unfortunately, the consensus was that we are likely to see more rather than less regulation, which is also bound to become more complex with increasing complexity of the digital environment around us."
He says that this is a time when most stakeholders hope to see less, not more, regulation to allow for freer development of the digital future.
"It is critical for governments and regulatory authorities to embrace new technologies, rather than stifle them with over-regulation, lest we miss out on opportunities the new technologies offer," Pater adds.
The good and the bad
Njue says attendees continued to discuss the great potential that that digital transformation has in transforming both businesses and governance in region. However, there are still several challenges that stand in the way of realizing the full potential of digital transformation in the region.
"These challenges include poor broadband connectivity, cyber insecurity, lack of technical skills in key technologies such as the Internet of Things (IoT), AI and blockchain, and a lack of awareness."
Pater adds that quality broadband connectivity and "affordable" access to ensure maximum socio-economic inclusivity in Africa remains a pertinent topic despite years of private sector and government initiatives.
When asked about how the telecom and ICT industry in East Africa stands out from its peers, Njue points out that this industry in East Africa telecom has experienced faster growth when compared to other regions on the continent.
"This is in terms of adoption of new technologies, innovation and new service uptake. The key drivers to the growth include favorable regulatory policies that promote investments and strong demand for services from consumers.
"Regional governments are major consumers of telecoms and ICT services, which is a major boost to service providers. I think the region also continues to record positive GDP growth, which is a good catalyst for the growth in the telecoms and ICT sector," he adds.
Pater, however, says that to build a successful digital economy in East Africa several more basic building blocks still need to be put in place.
"For instance, liberalization of immigration laws to attract foreign skills and direct investment, or creation of incentive schemes to experiment with new technologies through pilots ("sand boxes") free from bureaucratic constraints. Availability of requisite spectrum for new access technologies (such as 5G) is also critical."
East Africa Com took place on May 14-15, 2019 in Nairobi, Kenya.
— Paula Gilbert, Editor, Connecting Africa