SA President Promises Spectrum Policy Direction Within 30 Days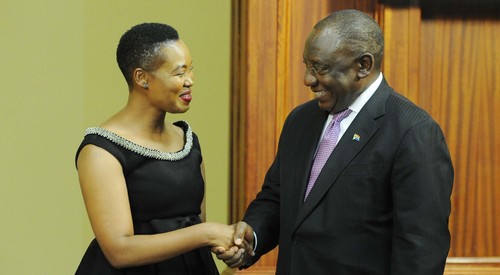 South African President Cyril Ramaphosa has announced that within the next 30 days the country will finally get some concrete direction when it comes to mobile spectrum allocation.
"Within the next month, the Minister of Communications [Stella Ndabeni-Abrahams] will issue the policy direction to the Independent Communications Authority of SA (ICASA) to commence the spectrum licensing process," Ramaphosa said during his State of the Nation Address (SONA) in Parliament on Thursday.
"This process will include measures to promote competition, transformation, inclusive growth of the sector and universal access. This is a vital part of bringing down the costs of data, which is essential both for economic development and for unleashing opportunities for young people," he added.
South Africa's mobile operators have been waiting for over a decade for more high-demand radio frequency spectrum to be released by government. As the world moves swiftly towards 5G, South African mobile operators are still waiting for 4G spectrum to be licensed, and telcos have up until now been forced to refarm 2G and 3G spectrum to provide 4G in the country.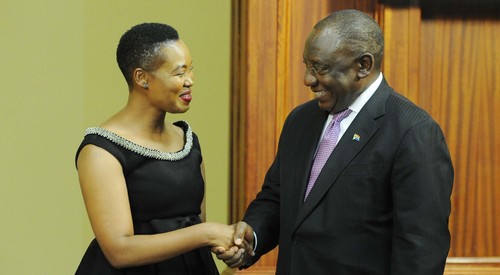 ICASA last year confirmed plans to license high-demand radio frequency spectrum by the end of March 2019 but that deadline came and went. The communications department then promised a final policy directive by the end of April, which also did not happen.
Both President Ramaphosa and Finance Minister Tito Mboweni have emphasized the importance of the process, as a spectrum auction could raise several billion rand for government.
Just when the industry thought spectrum allocation was on the horizon, in early May, the Department of Communications (DOC) said it was holding back any spectrum announcement until after the national elections held on May 8, 2019.
Recently the president merged the DOC and the Department of Telecommunications and Postal Services (DTPS) into the new Department of Communications and Digital Technologies (DCDT) headed up by minister Ndabeni-Abrahams. (See SA Intros New Comms & Digital Tech Department)
SONA is usually an annual speech each February and last night's speech was Ramaphosa's second SONA this year, to outline his vision for the country after the May elections, which saw his ANC party retain power nationally.
Data must fall
Ramaphosa told the joint sitting of the National Assembly and National Council of Provinces that mobile data prices must fall because "wherever we have gone young people have continuously raised the issue of the excessive high data costs in South Africa.
"We will expand our high-tech industry by ensuring that the legal and regulatory framework promotes innovation, scaling up skills development for young people in new technologies, and reducing data costs," Ramaphosa said.
"We call on the telecommunications industry further to bring down the cost of data so that it is in line with other countries in the world," he added.
Since 2016, South Africans have been complaining about the high price of mobile data through the social media banner #DataMustFall, and both the Competition Commission and ICASA have subsequently initiated inquiries into data pricing.
4IR dream
Ramaphosa also used his speech to push his Fourth Industrial Revolution agenda, saying: "we want a South Africa with a high-tech economy where advances in e-health, robotics and remote medicine are applied" and where the latest advances in smart agriculture are harnessed.
He also wants the country to become a manufacturing hub for key components used in electronics, automobiles and computers.
He pushed the idea of building smart cities in the country. Ramaphosa said that 70% of South Africans are going to be living in the urban areas by 2030 and that the cities of Johannesburg, Tshwane, Cape Town and Ethekwini are running out of space to accommodate "all those who throng to the cities.
"Has the time not arrived to build a new smart city founded on the technologies of the Fourth Industrial Revolution?" he asked.
"I dream of a South Africa where the first entirely new city built in the democratic era rises, with skyscrapers, schools, universities, hospitals and factories."
He said this dream has been fueled by conversations with government ministers and ANC members as well as discussions with Chinese President Xi Jinping, "whose account of how China is building a new Beijing has helped to consolidate my dream."
He said the country needs to prepare its young people for the jobs of the future. "This is why we are introducing subjects like coding and data analytics at a primary school level," he added.
— Paula Gilbert, Editor, Connecting Africa