Government-Led Internet Blackout Hits Cameroon for Fifth Week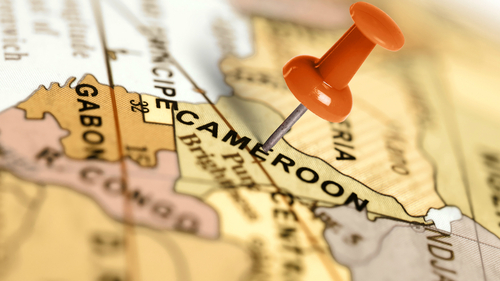 A state-led shutdown of Internet access in specific parts of Cameroon is now entering its fifth week.
The Internet blackout is alleged to have occurred in response to unrest and strike action being taken by workers in largely Anglophonic regions of the country. According to various sources, English-speaking workers have recently begun to feel increasingly segregated by the government as an apparent bias towards French-speaking policy and workers has developed.
In response to the perceived threat to their livelihood, English-speaking public sector workers across the country went on strike in mid-January. According to Akamai's State of the Internet Twitter account -- a page which tracks and monitors global Internet usage -- the first blackout occurred on January 17. But only temporarily.
It has since been reported, principally by Oracle's global Internet research firm Dyn, that the government's response to the public reaction is now entering its fifth week.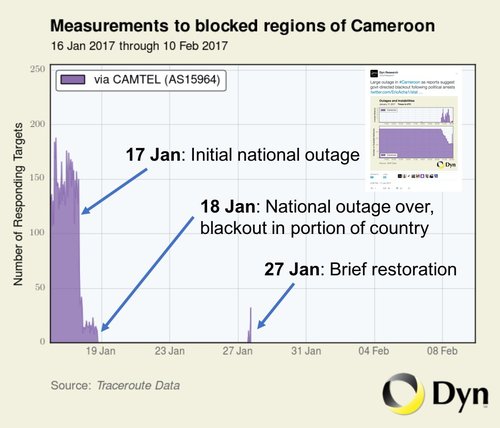 Cities in the affected south-west and north-west regions have allegedly seen a total block on Internet services including vital communications platforms like Whatsapp and Facebook. CNN has reported that startup activity in the entrepreneurially-rich city of Buea -- dubbed Silicon Mountain for its levels of innovation -- has become practically non-existent in the past month as tech entrepreneurs, banks and ATMs have all been taken offline.
"It [the ban] has affected us very badly," Otto Akama from tech hub Activspaces told CNN. "We have empty offices all over the city. All tech companies are down. Most banks are down and ATM machines are not working so people don't have access to cash."
The Ministry of Post and Telecommunications services for Cameroon has yet to make any public statements regarding the Internet block across the country. It is probably also worth pointing out that the website has no English section.
The Internet is such a vital tool for billions around the world. Businesses, societies and livelihoods depend upon it. Across Africa, companies, governments and operators have spent years and billions of dollars investing in the required infrastructure to give every African citizen the opportunity to get online. It will be decades before we see every single African get online, but one day it will happen. For those who are online today, connectivity has become the lifeblood of towns, cities, regions and entire countries.
To willingly impede citizens from connecting to the Internet with minimal legal justification is a counterproductive and callous act which thoroughly undermines the hard work being done across the continent to help those with no physical route to Internet access.
— Tim Skinner, Editor, Connecting Africa