Strong performances in Nigeria and Ghana helped push up MTN's profitability in 2019, as the South African business struggled to grow.
MTN's full-year results to December 31, 2019 show group service revenue increased by almost 10% – in constant currency terms – to R141.8 billion (US$8.8 billion). This was helped by growth of 12.6% in Nigeria and 22.9% in Ghana, while South Africa saw service revenue tick up by just 0.4%.
"The performance of MTN South Africa was impacted by economic pressure, new data usage rules and changes in recognition criteria for roaming revenue from Cell C due to delayed payments under the networking roaming agreement," the group explained in its published results.
MTN did not recognize revenue amounting to R283 million ($17.5 million) for network roaming services provided to Cell C during 2019. MTN SA would have recorded service revenue growth of 1.2% if all Cell C roaming revenue had been recognized.
MTN added 18 million group customers over the year, to reach a total of 251 million users, and boosted data users by 17 million to 95 million.
Meanwhile group fintech revenue increased by 27%, enabled by growth of 7.5 million active Mobile Money (MoMo) users to a total of 35 million, generating a monthly average revenue per user (ARPU) of $1.15. The value of MoMo transactions in the year was $96.1 billion, with 9,200 transactions processed per minute.
Group voice revenue increased by 4.2%, while data revenue grew by 22.4%.
Group earnings before interest, tax, depreciation and amortization (EBITDA) expanded by 13.6% to R53.4 billion ($3.3 billion).
"On the strategic front, we launched our instant messaging platform Ayoba, which is now live in 12 markets with 2 million monthly active users. We launched MoMo in South Africa and Afghanistan and received our super-agent license in Nigeria, registering more than 100,000 agents by year-end," said MTN's group president and CEO, Rob Shuter. (See AfricaCom: MTN Wants Ayoba to Be a 'Super-App' and MTN Mobile Money returns to SA .)
Shuter also made a shock announcement that he will be leaving MTN when his four-year contract ends in March 2021. (See Rob Shuter to step down as MTN CEO in 2021.)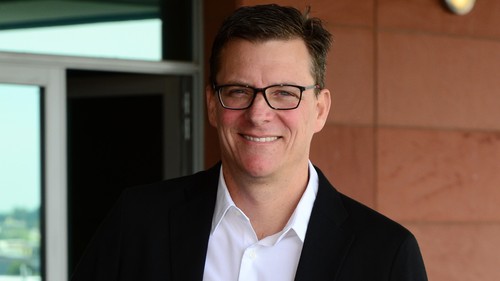 Shuter said that MTN's EBITDA margin improved and reported headline earnings per share grew by 62% in 2019.
"Our network rollout brought a further 69 million people into 4G coverage whilst reducing capex intensity. Improved cash flows during the year supported stable balance sheet ratios," he said.
"Following data price reductions in South Africa and Nigeria in 2019, we expect price elasticity to improve data revenue growth in 2020, supported by expanded 4G coverage in Nigeria and across the group. We will continue to scale up our fintech and digital services as well as grow our enterprise and wholesale businesses," Shuter added.
Group enterprise revenue increased by 8.4%, supported by 22% growth in MTN Nigeria, while the SA business stabilized. However, digital revenue declined by 39.6% as the group completed its "optimization of traditional value-added services."
MTN's plan to sell off non-core assets is also going well and it brought in R14 billion ($868 million) within the first 12 months of its planned three-year strategy, with plans for another R25 billion ($1.55 billion) in asset disposals targeted over the medium term.
Regulatory woes
MTN said it was progressing with various regulatory issues in its operations.
In January the group said it had resolved its tax-related legal action against the attorney general of Nigeria and was planning further investment in the West African country. (See MTN promises $1.6B Nigeria investment, legal woes over.)
MTN said it will announce an agreement with South Africa's Competition Commission "shortly" after the Commission demanded it drop its data prices. Local rival Vodacom yesterday announced its own deal with the Commission, promising to reduce its data bundle prices by between 30% and 40% and launching a range of other free data services for citizens. (See Vodacom to slash SA data prices by 30% and SA Competition Commission Forcing MTN & Vodacom to Cut Data Prices.)
Shuter also said the group plans to fight allegations related to its Afghanistan business after a complaint was filed in the US for violation of the anti-terrorism act. (See MTN Named in Violation of Anti-Terrorism Complaint.)
— Paula Gilbert, Editor, Connecting Africa