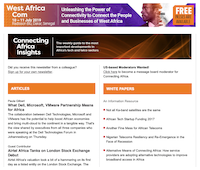 Connecting Africa provides industry executives with the latest news on communications networking and services transformation underway in Africa. Every day thousands of communications industry professionals visit Connecting Africa to get exclusive news and updates on the challenges and opportunities associated with the funding, planning, deployment and operation of communications networks in Africa.
In our Connecting Africa newsletter, delivered every Friday, you'll receive a weekly roundup of our most important developments in Africa's communications networking and services sector.
Sign up for Connecting Africa Insights and join our professional network of network operators, regulators, government officials, investors, enterprise CXOs and other senior communications networking decision-makers.