MTN Uganda and Chinese telecoms equipment manufacturer ZTE have jointly trialed East Africa's first 5G network.
MTN and ZTE showcased the 5G network proof-of-concept trial and demonstrated 5G use cases at an event in Kampala, Uganda. The four-day event featured a range of 5G application use cases including a demonstration of speed without fiber connectivity; cloud virtual reality experiences like self-driving cars; and a bionic robot showcase.
MTN said in a statement that it was the first operator in East Africa to carry out a 5G trial, following successful MTN 5G trials in South Africa and Nigeria last year. (See West & Central Africa Get on 5G Train and AfricaCom: MTN Launches 5G Trial With Huawei on Golden Band.)
"5G Technology will benefit the country in terms of improved quality of communication between massive numbers of devices, improved speeds, efficiency of service and security in addition to the increase of capacity for digital applications and innovations which will benefit both businesses and consumers alike," said MTN Uganda CEO Wim Vanhelleputte.
MTN said it hoped the proof of concept in Uganda will lead to commercial 5G deployment in the future "provided that there is a business case for the technology and that the requisite spectrum is made available to MTN".
Ugandan Prime Minister Ruhakana Rugunda attended the event and said that technology is very important to the acceleration of socio-economic empowerment in Uganda.
"The role 5G will have in transforming the way our farmers do their business [for example] cannot be overstated. Like we have experienced with other innovations, government is excited by the potential positive impact 5G will have on the economy," he said.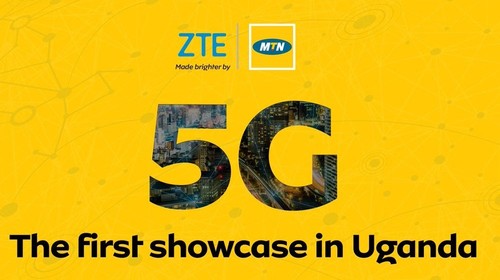 Sub-Saharan Africa is expected to have around 30 million 5G subscriptions by 2025, according to research by fellow equipment supplier Ericsson, out of 2.6 billion subscriptions worldwide. (See
Africa Lags in Ericsson's 5G Forecasts
.)
MTN said 5G technology will enable the simultaneous connection of billions of devices worldwide, instant streaming of high-quality video content and will connect objects and equipment used daily, allowing users to communicate with tools like fridges, cars, their homes etc.
"By all the joint hard working, the end-to-end field tests to provide the typical eMBB service, more than one Gigabit throughput running on the air-interface has been achieved in the limited 65MHz spectrum," explained ZTE's vice president for the Southern African region, Yi Yahua.
In addition, ZTE also presented its end-to-end commercialized 5G solutions as well as its 5G terminal devices.
To date, ZTE has obtained 35 commercial 5G contracts in major markets such as Europe, Asia-Pacific and the Middle East and Africa. ZTE has been one of MTN's partners since 2009.
— The Staff, Connecting Africa