PEACE Subsea Cable Set for Late 2019 Launch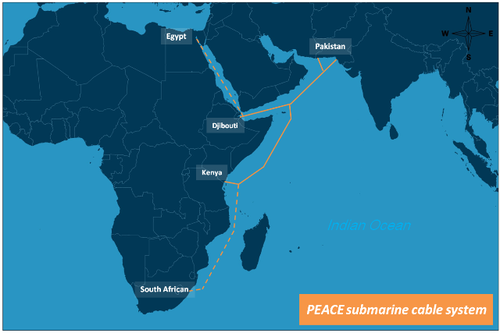 Huawei Marine Networks is about to commence the next development stage of the planned Pakistan East Africa Cable Express (PEACE) cable system that will link East Africa and Asia, with expectations that the network will be operational before the end of next year.
Having completed the "desktop study" of the network with partner Tropic Science, Huawei Marine is set to begin the marine survey on January 15, followed by construction and the planned commercial launch of the network in the fourth quarter of 2019.
The first phase of the cable system, based on 200G DWDM technology and providing up to 60 Tbit/s of design capacity, will connect Pakistan (Gwadar and Karachi), Djibouti, Somalia and Kenya and span 6,200km in length. The second phase will provide the extended option to South Africa and Europe (via Egypt), with a total length of about 13,000km.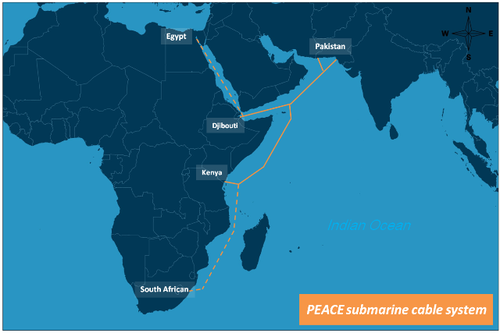 The idea behind the network is to provide enhanced connectivity between Africa, Asia and Europe and, by connecting with existing subsea and overland transport cables (from Pakistan to China), reduce the route length and latency on the Africa-to-China and China-to-Europe routes.
The cable system is owned and managed by Tropic Science and China-ASEAN Information Harbor, which have sourced finance from the China Construction Bank. The owners signed a memorandum of understanding (MoU) with Huawei Marine in October of last year. The planned total investment in the cable system has not been made public.
Tropic Science believes Africa is a more attractive market to connect to than most others due to its ongoing communication network development and the growth in Internet users across the continent.
The PEACE cable will add to the importance of Djibouti as an international connectivity hub for Africa and provide additional international links from East Africa, which is gaining subsea connectivity at an impressive pace: In June 2017, the AAE-1 (Asia-Africa-Europe 1), a 25,000km subsea network running from Europe (France, Italy, Greece) via Egypt and Djibouti to the Middle East and on to India and the Far East, came into service. (See The Making of Africa's Most Strategic Bandwidth Hub and Africa Gets Another Subsea Link as AAE-1 Goes Live.)
— Ray Le Maistre, International Group Editor, Light Reading, for Connecting Africa