Safaricom CEO Bob Collymore has slammed a report into Kenya's telecoms market, saying that its recommendations would punish its customers and stifle innovation.
In a presentation to the Kenyan parliament's committee on ICT, which is inquiring into Legislative And Regulatory Gaps Affecting Competition In Kenya's Telecommunications Sector, Collymore criticized a report drawn up for the Communications Authority of Kenya by industry consultancy Analysys Mason.
The Analysys Mason Report on Telecommunication Competition Market Study, which identifies Safaricom as a dominant operator in certain market segments, suggests a number of measures that the consultancy believes would improve competition in a market where Safaricom, with about 30 million customers, holds a commanding market share of around 70%.
The suggested measures include curbs on tailored loyalty schemes and promotions, the prohibition of on-net discounts, a requirement to enable national roaming and more. (See Safaricom Safe From the Splits, but Rural Network Sharing Likely.)
Collymore, not surprisingly, is not impressed by such suggestions, saying that the measures, if implemented, would "punish Safaricom's customers, stifle innovation, discourage investment and reward competitors who do not invest in their networks as they should."
Collymore added: "In essence, this report seeks to introduce retail price controls on Safaricom's services, effectively raising the applicable rates of Safaricom's services, making the services more expensive to the customers, and forcing them to migrate to competitors' services based on cost considerations. This is essentially creating an artificial competitive landscape that rewards Safaricom's competitors and disadvantages Safaricom's customers."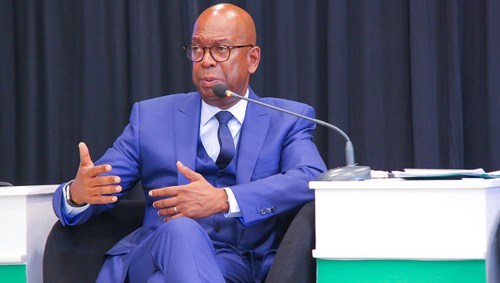 Safaricom's competitors – namely, Telkom Kenya and Airtel Kenya – will, naturally, beg to differ.
For more on what Collymore, who is now back at work full time after a lengthy medical leave (see his tweet below), had to say, see this transcript of his presentation on Business Daily.
— The staff, Connecting Africa