Safaricom and Vodafone are collaborating on the development of an IoT solution designed to help Kenyan athletes complete a marathon in less than two hours, almost three minutes faster than the current world record.
The solution, which is being trialed with "connected" athletes at the Eldoret and Iten training grounds in Kenya, is being developed by the two operators, a team of scientists, experienced marathon runners and others as part of a project called SUB2 (www.sub2hrs.com).
The current marathon world record is 2:02:57 and was set by Kenyan athlete Dennis Kimetto on September 28, 2014 at the Berlin Marathon.
Vodafone, as part of its contribution towards the project, has developed a SUB2 smart watch app that provides telemetry with enhanced location tracking using mobile networks. Ethiopian marathon runner, Kenenisa Bekele, used the app as his digital pacemaker during the 2017 Berlin marathon.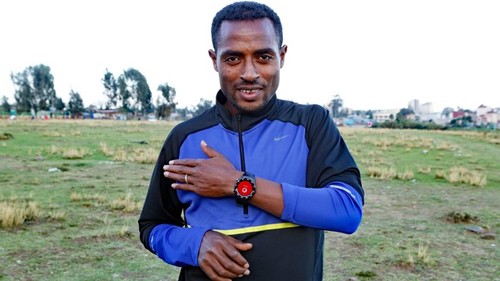 Now Vodafone has also developed a series of body sensors that link to the app over a mobile network that provide a range of data sets (including 3D images) related to the way an athlete is running, the athlete's skin temperature, the surrounding climate conditions, and more. The sensors give coaches access to real-time data as athletes train, helping them understand the root causes of injuries or performance degradation and figure out how these can be avoided.
The technology was demonstrated at the recent Mobile World Congress show in Barcelona and is currently being used at the Iten and Eldoret training grounds in Kenya. The technology has been deployed on a 2km course within the hilly Iten area and a 16km course on the flat South Moiben route in Eldoret.
"At Safaricom, we continue to seek and explore new innovations around the latest technologies, with the goal of creating new opportunities for Kenyans," said Thibaud Rerolle, director of technology at Safaricom. "This application of IoT in athlete training in Iten and Eldoret will not only help Kenyan athletes improve their performance, it will also further refine and fine tune our IoT solution in readiness for nationwide deployment," he added.
Safaricom has been developing a number of IoT applications at the Technology Lab it opened in May 2017 and says it is preparing for a nationwide IoT deployment in the coming months. (See Safaricom Pumps KSh200M Into Telecom Test Lab.)
The SUB2 project is being led by Yannis Pitsiladis, a Professor of Sport and Exercise Science at the University of Brighton in the UK and a member of the International Olympic Committee's Medical and Scientific Commission.
— The staff, Connecting Africa