Emerging trends such as IoT and Big Data are set to underpin the next waves of technology innovation in East Africa.
That was one of the takeaways from the recent East Africa Com event in Nairobi.
In a keynote speech on the impact of network rollout strategies delivered by Safaricom's Mercy Ndegwa, Head of ICT Regulation and Public Policy at the operator (on behalf of Stephen Chege, Director Corporate Affairs at Safaricom), she noted that developments around trends such as the Internet of Things (IoT), Big Data, 3D printing and self-driving/connected cars will impact how business is done in the region and be a catalyst for change in the same way as existing mobile finance-based applications.
In addition, she added, Kenya has a history of embracing technology innovation, making the country a good starting point for further development.
"The digital revolution is changing at a faster pace," noted Ndegwa. "Today you can send M-Pesa across the East African nations of Kenya, Uganda, Tanzania and Rwanda. This would not have been imaginable ten years ago, but consistency in innovation and investments in networks have made this possible." She added: "Technology, for example, has turned banking on its head. A lot of transactions are done from branchless networks." (See M-Pesa Reaches the Big One-O.)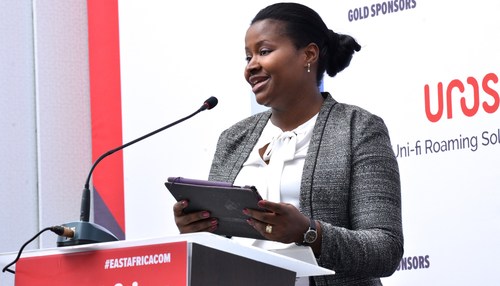 Ndegwa added that services that leverage technology, such as the M-Tiba mobile health insurance application, and the M-Kopa solar energy service, have changed the lives of many Kenyans and that further innovation and positive impact can come from further network investments. "More investment in broadband can only mean a better deal for East Africa," she concluded. (See M-KOPA Hits Customer Milestone.)
The view that East Africa can be a hotbed of innovation is shared by Tom Cuthell, Portfolio Director for the Com Series of events, organized and run by KNect365. "There is a lot of excitement about the East African market and operators seem more open to disruption here. Telecom companies are enablers in that space and they are looking at what that means for digital transformation."
— Vince Matinde – Media Partner, East Africa Com