Mobile commerce has revolutionized consumer spending habits and the understanding of retail business trends in markets such as Kenya, thanks to the popularity of digital commerce services such as M-PESA, hard cash is still at the heart of many transactions, even in relatively advanced African markets. (See Finance and Commerce on the 'Mobile Continent'.)
To gain a better understanding of Kenya's cash-dependent population, mobile operator Safaricom (Africa's poster child for mobile finance) has teamed up with "mobile-first" research firm mSurvey to launch Consumer Wallet, a "platform that quantifies offline consumer spending habits and trends." (See M-Pesa Reaches the Big One-O.)
The idea is to use mobile messaging marketing techniques to gather useful data about the spending trends and habits of consumers that use cash rather than an m-commerce service such as M-PESA (which allows consumers to pay for goods and services using their mobile devices and accounts).
The Consumer Wallet concept is based on mobile messaging interactions with large numbers of consumers, who are sent questions about their spending behavior in the form of mobile "chat" applications. The responses to those questions are gathered and analyzed to provide businesses with insight into the offline spending habits of Kenya's consumers.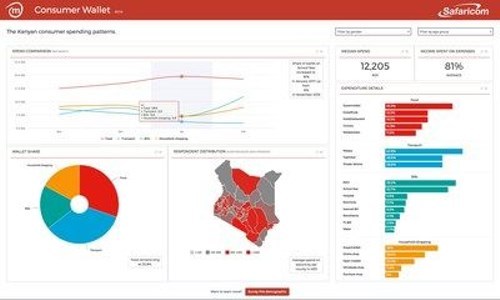 "To invest in Africa, you have to understand its consumers," said Safaricom CEO Bob Collymore in a prepared statement about the launch of Consumer Wallet, which is in beta trials. "The in-depth, high-integrity data we are unlocking with this new Consumer Wallet platform is extremely valuable and helps us and other businesses and institutions around the globe make better decisions, relate to consumers, identify opportunities, navigate the terrain and fuel growth and transformation. Traditionally it would take extensive in-person questionnaires or physical diaries to scratch the surface of this kind of data, a method that is cumbersome, expensive and subject to low response rates and human error."
According to Safaricom and mSurvey, data collected from the responses will be tracked and analyzed daily, providing data that enables businesses, entrepreneurs and investors to "understand how choices evolve over time" and "build sales models that predict how consumers will behave based on geographic location, living standard measurement and time of year." They also believe the resulting data will provide "insight into how external factors and stressors like weather, climate change, and current events (such as elections) impact demand."
Dr. Victor Ikawa, head of Research and Insights at Safaricom, added: "Research, big data, social listening and market monitoring are critical to business development. With the Consumer Wallet, we not only holistically quantify how much cash consumers are spending on goods and services, we can also now understand and track the 'why' -- the emotional and practical variables that drive and impact consumer spend. This is a powerful value-add for Consumer Wallet users that unlocks unprecedented insights that get richer and more nuanced over time."
— The staff, Connecting Africa