Wedaeli Chibelushi
Wedaeli Chibelushi is Editor of B2B magazine African Business Review. She is also a freelance journalist, with bylines in titles such as The Guardian, The Independent and VICE.

Ray Le Maistre
Don't be fooled by the weird cod-French surname: Ray's as British as corned beef and bad teeth, despite affecting a sheen of Continental sophistication by his constant references to fancy-dan "proper" coffee. He's even trained as a barista, for god's sake.
Ray joined Light Reading in 2002 shortly after being shown the door and a very long corridor at Total Telecom. He has been in technology journalism since 1988, having worked at Computer Weekly, Communications WeekInternational and Communications International.
A slave to fashion, Ray is never seen in the same outfit twice. When not trawling the malls of Epsom, U.K., for the latest in skinny jeans and what-have-you, Ray is often to be heard banging on about SPIT (Service Provider Information Technology), which is also known as TATRTCA (The Acronym That Refuses To Catch On).
As a soccer nut, Ray likes nothing better than cheap jibes about Manchester United. If you bump into him at a trade show, be sure to make some remark about prawn-sandwich-eating supporters or similar – he'll love it!

Iain Morris
Iain Morris joined Light Reading as News Editor at the start of 2015 -- and we mean, right at the start. His friends and family were still singing Auld Lang Syne as Iain started sourcing New Year's Eve UK mobile network congestion statistics.
Prior to boosting Light Reading's UK-based editorial team numbers (he is based in London, south of the river), Iain was a successful freelance writer and editor who had been covering the telecoms sector for the past 15 years. His work has appeared in publications including The Economist (classy!) and The Observer, besides a variety of trade and business journals. He was previously the lead telecoms analyst for the Economist Intelligence Unit, and before that worked as a features editor at Telecommunications magazine. Iain started out in telecoms as an editor at consulting and market-research company Analysys (now Analysys Mason).

Tim Skinner
Tim is the Editor at Connecting Africa, bringing to the community several years of experience as an editor at Telecoms.com, where he focused on the latest activities in the telecoms and technology industries. While at Telecoms.com, Tim mainly focused on delivering a broad array of client content, from white papers to research surveys, with a dash of video and radio thrown in for good measure.

Amy Turner
Amy is the Site Editor at Connecting Africa, producing digital content to support the AfricaCom and Com Series of events. A South African native, her main areas of interest lie in African innovation, socio-economic development and the opportunities tech and telco can provide in connecting the last mile. Amy has a great deal of experience producing a wide range of digital and multimedia content and oversees all content production for Com Series, including its amplification over various social channels.

Guy Zibi
Guy Zibi is Founder and Managing Director of Xalam Analytics, a research and analytics joint venture with Light Reading LLC focused on Africa/Middle East ICT and enterprise markets. Guy has more than a decade-long experience in researching and analyzing the business of technology in developed and developing economies around the world. He was previously Co-Founder and Managing Director with AfricaNext Investment Research, an Africa-focused telecom equity research firm, where he led financial analysis on African technology assets and managed projects around carrier due diligence, wholesale capacity markets and new carrier models. Guy is widely recognized as a foremost expert in TMT markets in growth economies. In prior years, Guy was Head of Pyramid Research's Global Consulting Practice and Director of EMEA Research. In those roles, Guy managed a team of consultants tasked with developing and executing the company's research into new technologies and innovative business models at a global level (Cloud, OTT, VoIP, enterprise, infrastructure bandwidth, mobile profitability in emerging markets). He also acted as the lead consultant for due diligence projects in Africa/Middle East on the buy and lending sides, spearheading financial and operational due diligence projects on the operations of fiber, mobile, fixed and Internet services providers in emerging markets.
With support from vendor partners such as Cisco, Huawei and Nokia, Kenyan operator has replicated its network in a lab to enable faster testing and help bring new services to market quicker.
To celebrate Africa Day, we took to Twitter for a live chat on the continent's contribution to technology innovation.
Satellite operator is deploying the Jupiter system from Hughes Network Systems to offer broadband services across sub-Saharan Africa.
The launch of two data centers in South Africa by Microsoft should change the cloud landscape in Africa, writes Xalam Analytics Principal Guy Zibi.
A service designed to help pregnant women get to hospital for childbirth has had a positive impact, reports Vodafone.

July 11-12, 2017, Radisson Blu Hotel, Dakar Sea Plaza, Dakar, Senegal

September 20-21, 2017, Lagos Oriental Hotel, Lagos, Nigeria

November 6-10, 2017, Cape Town International Convention Centre (CTICC), Cape Town, South Africa
All Upcoming Live Events
All resources
Méditel Becomes Orange in Morocco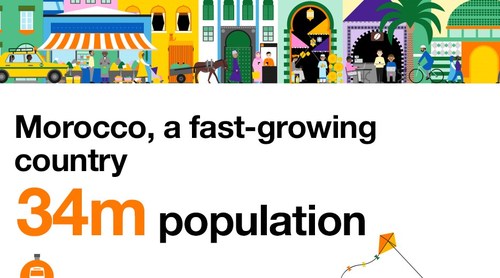 Infographics archive