Kenya and Ivory Coast have the greatest mobile financial services opportunities when compared to their African peers, according to the Mazars Mobile Payments Index, which analyzed 17 global markets in terms of factors like consumer behavior, mobile payment penetration and regulation and infrastructure.
Kenya was the highest-ranked African nation in eighth place, followed by the Ivory Coast in tenth place. Senegal and South Africa were at the bottom or the scale in 14th and 15th place respectively and the only countries ranked worse were Mexico and India in 16th and 17th place. China, the US and the UK emerged as the markets with the most potential, with South Korea and Germany rounding out the top five.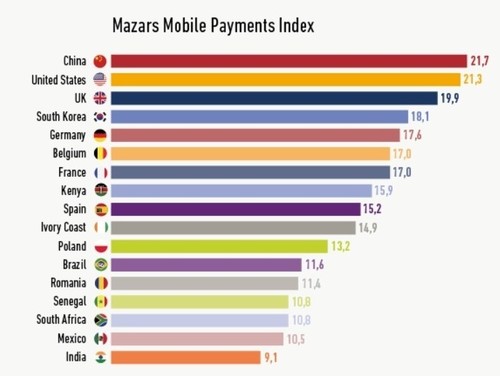 The Mazars Mobile Payments Index was part of the international audit and advisory firm's recent study:
Future of Telcos: Winning the client experience battle, the case of mobile financial services
. The report contains insight from ten internal experts and reveals how telecommunications companies stand to strengthen customer loyalties and grow their bottom line if they can use mobile finance capabilities to shape, own and brand seamless customer experiences.
"The business of telcos is changing. Connecting people is no longer enough -- instead, telcos want to play a leading role in shaping customer experiences," said Julien Huvé, head of telecommunications services at Mazars Group.
"By using their devices to unlock shared, autonomous cars and 'shop and go' without having to reach for a physical wallet, customers are on the verge of a new seamless era. This is where the opportunity lies for telcos, which can use mobile financial services to turn possibilities into reality," Huvé adds.
By analyzing the markets based on ten different variables related to regulation and infrastructure, consumer behavior and mobile payment penetration, the index provides an equivalent basis on which to compare mobile financial services opportunities around the globe.
African success
When looking specifically at the African continent the report says that, during the past decade, Africa has become a global leader in mobile financial services. In fact, more than half the world's mobile money companies operate on the continent, with 40 active mobile payments competitors in Africa.
The index ranked several African countries as performing well on infrastructure, regulation and digital literacy, with Kenya and Ivory Coast coming out as best-in-class, reaching second and fifth place, respectively, in terms of mobile financial services usage.
Mazars says there is an 82% average mobile penetration rate in Africa, while the expected smartphone penetration rate is predicted to be 70% by 2024.
"Notably, mobile financial services play a transformative role for economic and social inclusion across the continent, particularly on women," the report says.
Zied Loukil, Mazars partner and head of African Banking Platform, says that Africa offers such fertile ground for mobile financial services providers because of the immense consumer appetite.
"In 2017, there were 390 million people who were still unbanked in Africa. Those people are excluded from basic financial services, such as paying bills or transferring money other than by cash -- let alone saving or borrowing. By contrast, the penetration rate of mobile phones has skyrocketed over the last decade, sometimes exceeding 100%," explains Loukil.
"Mobile phone operators had a great opportunity to create the mobile wallet market: they already had a strong customer base and a dense distribution network. They chose to rely on a simple, yet robust, technology platform that was very similar to SMS -- meaning that almost everybody with a mobile phone could access it. After the pioneering initiative of M-Pesa in Kenya, we have seen successful initiatives almost everywhere," adds Abdou Diop, managing partner of Mazars Morocco.
The authors of the report however believe that mobile payments are only the first step.
"Building on their success, telcos are now starting to offer more sophisticated financial services, such as deposit and saving accounts, peer-to-peer lending and micro-credit, even investment and insurance products."
They are building partnerships with financial institutions and, in some cases, expressing their interest in applying for banking licenses.
"This is when telcos and traditional banks are going to compete head-on," predicts Loukil.
"Banks might be tempted to lobby in favor of restrictive regulations in order to preserve entry barriers on their markets. Still, they also have an interest in being constructive: the market potential is such that everybody can benefit from its growth. Again, the huge social impact should motivate all stakeholders to join forces. When local communities are offered the technology to crowdfund a well for drinking water, or when diasporas can transfer money across borders at a reasonable cost to help their families, we clearly have convincing cases for collaboration," Loukil adds.
— Paula Gilbert, Editor, Connecting Africa