MTN makes its highest average revenue per user (ARPU) in eSwatini (formerly Swaziland) followed by South Africa and Botswana while Vodacom's highest ARPU comes from South Africa and Lesotho, according to the latest published quarterly statistics from the South African-based operators.
As of the end of June 2019, MTN had 240 million customers in 21 countries across Africa and the Middle East, while Vodacom had 79 million customers across its five African operations (if you exclude its investment in Safaricom in Kenya).
ARPU is an indication of the average amount of money that a mobile operator derives in sales from each of its customers per month. It is generally calculated by dividing the average monthly service revenue by the average monthly active customers during the period.
As of the second quarter to June 30, 2019, in US dollar terms MTN subscribers in eSwatini were contributing ARPU of $7.17, followed by South Africa at $6.69, Botswana at $6.60, Congo-Brazzaville at $6.54, and South Sudan at $6.45.
Nigeria, which is MTN's biggest operation by subscriber numbers, had an ARPU of $4.08 at the end of the quarter, down slightly from $4.17 the previous quarter. This was lower than neighbor Benin ($4.93) but well above other West African peers Cameroon ($3.19) and Ivory Coast ($3.34) and very similar to the ARPU of Ghana ($4.03).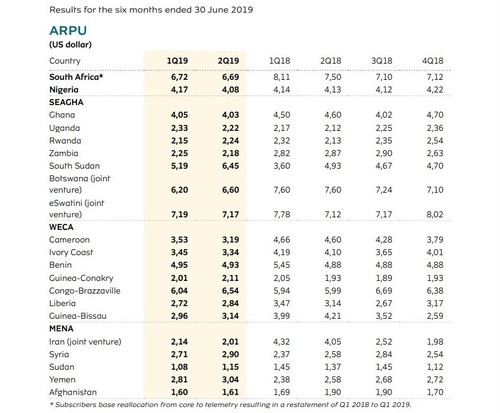 MTN's Middle East and North African operations were bringing in the lowest ARPUs, with Sudan at the bottom of the scale at $1.15 followed by Afghanistan at $1.61. Iran, Syria and Yemen all had ARPU of between $2 and $3.
Meanwhile Vodacom's highest ARPU for the second quarter was from its South African customers, who generated an ARPU of R85 ($5.91). The next highest ARPU for the period came from its Lesotho business, which brought in R73 ($5.07) per user per month; followed by Mozambique at R55 ($3.82); the Democratic Republic of the Congo (DRC) at R44 ($3.06); and Tanzania at R37 ($2.57).


These numbers come from Vodacom's latest trading update for the quarter ended June 30, 2019 using the average quarterly exchange rate of 14.39 for USD/ZAR.
All four operations outside of South Africa saw a slight uptick when compared to the previous quarter, while the SA operation saw a slight drop in ARPU both quarter-on-quarter and year-on-year.
— Paula Gilbert, Editor, Connecting Africa