AfricaCom TV caught up with Herman Singh, MTN's Group Chief Digital Officer, during the 20th anniversary event. Singh discussed the role of mobile as a platform for expanding the African digital economy and mapping Africa's journey through the 4th Industrial Revolution. If you're interested in shaping digital Africa, find out more about AfricaCom (13-15 November 2018, Cape Town), the largest tech and telecommunications event in Africa here. Pre-registration for the 2018 event is now open, register your interest here.
Long-awaited IPO finally executed, with dramatic effect.
Zambia's telecom minister says Huawei will be upgrading state-owned towers with 5G mobile broadband capabilities.
Vodacom has reported a decent financial year, supported by strong international business.
Africa Mobile Networks (AMN) is aiming to connect more people in rural Africa to the communications grid by rolling out more cellular base stations developed by Vanu.
The operator reported 10% growth in revenue and added 4 million subscribers, though its digital division suffered a decline.
All resources
Safaricom Spark Fund Portfolio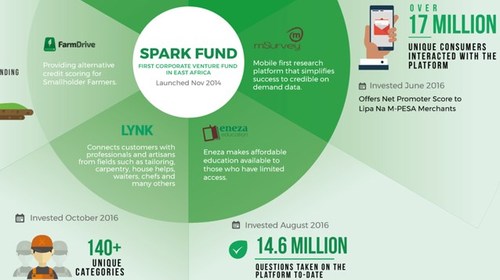 Infographics archive