AfricaCom TV caught up with Herman Singh, MTN's Group Chief Digital Officer, during the 20th anniversary event. Singh discussed the role of mobile as a platform for expanding the African digital economy and mapping Africa's journey through the 4th Industrial Revolution. If you're interested in shaping digital Africa, find out more about AfricaCom (13-15 November 2018, Cape Town), the largest tech and telecommunications event in Africa here. Pre-registration for the 2018 event is now open, register your interest here.
The Kenyan telecoms operator wants to expand its e-commerce proposition, Masoko, to other countries in Sub-Saharan Africa by next year.
The South African IT services firm has confirmed that an investigation has found evidence of unsubstantiated payments, tender irregularities and other unethical business dealings that could add up to $87 million.
Cell C interim CEO Douglas Craigie Stevenson has published an open letter speaking about the 'financial and other challenges' that the South African operator faces.
South African Minister of Communications and Digital Technologies, Stella Ndabeni-Abrahams, has given herself short deadlines for big moves when it comes to spectrum and the extremely delayed digital migration process.
Music streaming service Spotify has launched a 'Lite' version for emerging markets which uses less storage, data and battery.
All resources
Safaricom Spark Fund Portfolio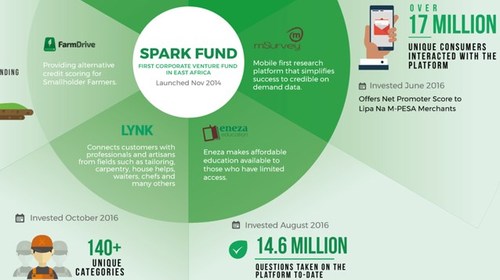 Infographics archive