A top class panel of industry specialists discusses the impact of mobile connectivity and digital services on the the personal and business lives of Africans. Talking at the 20th anniversary launch of AfricaCom in July were: Toby Shapshak, Editor-in-Chief, Stuff Magazine; Gustav Praekelt, Founder & Chairman, Praekelt.org; Manny Teixeira, Group Head of Digital Media and Services, MTN; Luke Mckend, Country Director, Google South Africa; Elizabeth Migwalla, Senior Director, Government Affairs Africa, Qualcomm; and Rapelang Rabana, Founder and CEO, Rekindle Learning. For more expert opinion, visit AfricaCom 2017: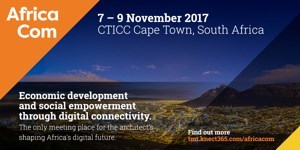 Investigation into Vodafone's growth across Africa suggests that deals were not as ethical and transparent as they could have been and have lined the pockets of the continent's political elite.
Mobile operator registered growth in revenues, customer numbers and net profit during the first half of its fiscal year, during which data revenues outstripped voice revenues for the first time in its core market of South Africa.
Vodacom executive foresees a radical overhaul of the business model for mobile network operators in the next five years.
Automation in the workplace is a worrying prospect in a region with an acute skills shortage.
Senior executive at Kenyan operator accepts some of the blame for Africa's affordability crisis.
Thursday, November 16, 2017
2:00 p.m Cape Town / 1:00 p.m London / 8:00 a.m New York
FTTH rollout has accelerated across Africa, driven by increased availability and consumption of bandwidth-hungry content, from video streaming services to cloud-based enterprise applications. This webinar will provide an overview of key trends in this burgeoning sector, along with some perspective on the status of deployments, economic feasibility and competition with alternative broadband access technologies (mobile broadband in particular).
All resources
Safaricom Spark Fund Portfolio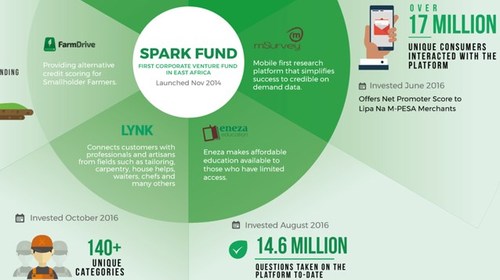 Infographics archive