THE PLACE TO SHAPE AFRICA'S DIGITAL FUTURE. Anyone who's anyone in African telecoms and technology will be at AfricaCom 2017, 7-9 November, at the Cape Town International Convention Centre, South Africa. You should be too. Three days of thought-provoking content and amazing tech. It's the place to get deals done.
Mobile video users in South Africa can enjoy a good experience, better than in some advanced European countries, despite constrained download speeds, according to a report by OpenSignal.
Technological advances bringing sport closer to African fans.
A study at the University of Oldenburg has identified the success factors for digital transformation in midsize enterprises.
The newly published Africa Digital Outlook 2019 report identifies mobile broadband access, mobile money, digital services and 5G as the growth sectors.
With under a week to go until AfricaCom 2018, Connecting Africa speaks to Dudu Mkhwanazi, the CEO of Project Isizwe, a South African non-profit organization that advocates for free Internet access within walking distance in low-income communities.
All resources
Safaricom Spark Fund Portfolio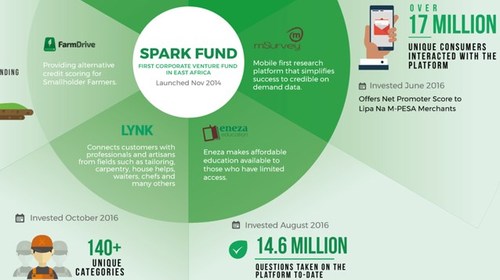 Infographics archive