Member Since: July 28, 2017
The operator will provide Internet connectivity and cloud services to technology players in Zambia.
Indian operator denies it has talked about quitting African markets but says it remains open to merger possibilities.
Tunisian operator is engaging with cryptocurrency startup Telcoin to check out a new way to offer mobile remittance services.
There were 1 million active 4G users in Kenya for the first time during November and that number is only set to grow in 2018.
Despite its recent history, Zimbabwe has a high ICT ranking and one of the most important telecoms markets in Sub-Saharan Africa.
Thursday, November 16, 2017
2:00 p.m Cape Town / 1:00 p.m London / 8:00 a.m New York
FTTH rollout has accelerated across Africa, driven by increased availability and consumption of bandwidth-hungry content, from video streaming services to cloud-based enterprise applications. This webinar will provide an overview of key trends in this burgeoning sector, along with some perspective on the status of deployments, economic feasibility and competition with alternative broadband access technologies (mobile broadband in particular).
All resources
Safaricom Spark Fund Portfolio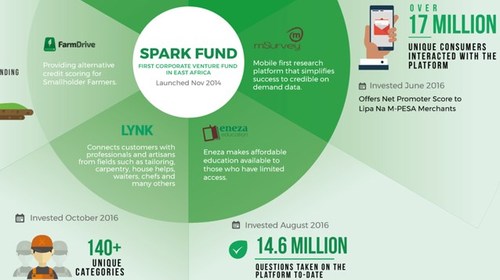 Infographics archive