The recent completion of the South Atlantic Cable System (SACS) that runs from Angola to Brazil is set to create a new wave of business opportunities for Angola, according to Angola Cables CEO António Nunes. (See South Atlantic Cable System Is Completed.)
Talking with Connecting Africa's sister online community Broadband World News recently, Nunes noted that, prior to SACS, "between Africa and South America, there was no cable available... SACS will be bringing to West Africa -- and Angola specifically -- a diversity of routes to the Americas. Because we have cable from Brazil to the US, we have direct connectivity to South and North America," he added.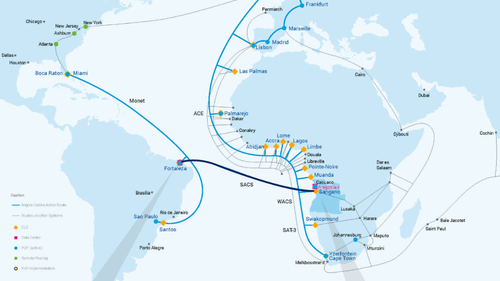 With much lower latency now possible across SACS, the financial sector -- which is always seeking high-bandwidth, low-latency connectivity -- is now much more of an opportunity for Angolan service providers, noted Nunes.
For the full story, see Angola Cables: Surfing the Waves of Disruption.
— The staff, Connecting Africa