Streaming video-on-demand (SVOD) services are set to boom in the next six years across Africa, with subscriber numbers set to ramp six-fold, according to new forecasts from Digital TV Research.
According to the firm's analysts, SVOD subscriber numbers across 35 Sub-Saharan African countries are forecast to grow from 1.56 million at the end of 2017 to almost 10 million by 2023. About a third -- 3.37 million -- of those subscribers will be in South Africa and a further 2.61 million in Nigeria, meaning those two countries alone will account for about 60% of the total by 2023, though that is down from the 74% that they collectively accounted for in 2017.
However, the researchers expect that annual SVOD revenues in those countries will be worth just US$775 million by 2023 "as some platforms are very cheap." That works out at $6.46 in revenues per month.
As the graphic below shows, the six leading service platforms will dominate the market by 2023 as they did in 2017, accounting for about 90% of subscribers, according to the report. "Despite being relatively expensive, Netflix will account for 40% of the 2023 total," just over 4 million subscribers, according to the forecast.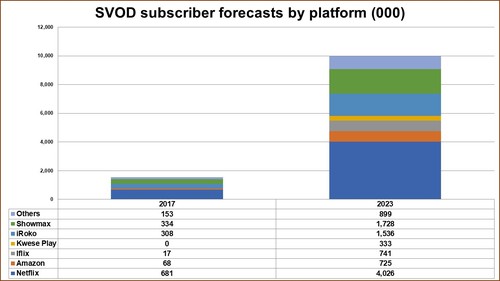 Simon Murray, principal analyst at Digital TV Research, noted: "Market dynamics have shifted over the last year. There have been many fewer platform launches, especially on a country level. Furthermore, several multinational players are expected to rein in their ambitions whereas Netflix has consolidated its market leadership. We believe that iRoko will concentrate mostly on West Africa. A significant stake in Iflix was sold to Econet, which we believe will mean more focus on Eastern and Southern Africa. Multichoice announced that Showmax will be given free to premium DStv subscribers across Africa, with Compact subscribers offered Showmax for half price."
— The staff, Connecting Africa