Goodwell Raises €20M
PRESS RELEASE -- Goodwell Investments has raised 20 million Euro from over 30 investors for investments in inclusive economy in Sub-Saharan Africa. Goodwell invests in young, fast growing companies that offer products and services to un(der)served people to meet their increasing demand for affordable and quality basic products. The goal is to achieve maximum social impact while delivering a market rate return to investors.
Economic and social developments are rapidly changing the face of Africa. Still, millions of people are excluded from accessible and adequate basic goods and services, such as financial services, energy or health care. Goodwell is convinced that if un(der)served consumers had access to these basic services, it would contribute to a more sustainable and inclusive society. This objective is best achieved by providing capital and management support to companies that deliver these products and services.
The investment fund is built on a portfolio that is spread across various impact sectors and regions in Sub-Saharan Africa. Half of the fund will be invested in financial services; the other half in agriculture, health and sanitation, energy, transport and education. Investment in the financial sector is crucial as it is the driving force behind a thriving local economy. This gives businesses the best leverage and opportunities to scale-up. Goodwell's extensive network in this sector and successful track record from predecessor funds, allows the company to be a trusted and insightful mentor within the impact investment space.
ENDS
Mobile network technology has been developed for developed nations, leaving a lack of affordable mobile coverage solutions for countries with different needs, including those in Africa, argues the director of Orange Labs Networks.
The digital payment specialist's C round of investment was led by The Rise Fund.
Operator adds 7 million customers, mostly in South Africa, as it gears up for further network investments.
Kenya's dominant operator reports better-than-expected full fiscal year numbers as its CEO makes an appearance after seven months of medical leave.
Latest 5G tests with Huawei take MTN out of the lab and into the field.
All resources

July 10-11, 2018, Radisson Blu Hotel, Dakar Sea Plaza, Senegal

November 13-15, 2018, CTICC, South Africa
All Upcoming Live Events
Safaricom Spark Fund Portfolio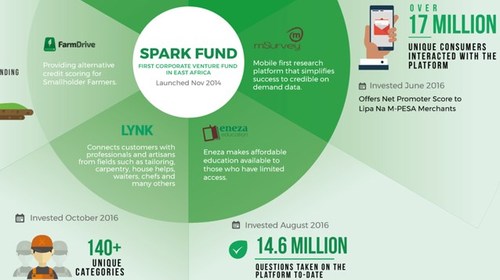 Infographics archive