For many years, there has been plenty of talk and little action in African Public Broadcasting. As one would expect, the challenges facing public service broadcasters (PSBs) in Africa therefore aren't new. Lack of committed funding for DTT, low uptake of set-top boxes, and a lack of adequate content are well known as some of the factors stalling their development.
As I left the annual SABA Conference in Windhoek, however, I felt cautiously optimistic that Public State Broadcasting is now waking up to today's digital reality.
There was much talk of public broadcasting taking on a new identity these days, thinking of themselves more as a media business than a bureaucratic and monolithic FTA content platform. Chairperson of the National Film and Video Foundation Phil Molefe referred to PSBs as subsistence farmers, producing to consume rather than producing to export. That mindset needs to change, was his message. Why shouldn't content be shared across the continent and sold internationally? Why shouldn't SABA members, and PSBs beyond that, band together to fulfil the order requirements from STB manufacturers?
Ultimately, PSBs first need to learn how to make money. With the imposing threat of their funding being cut, they must learn to build a sustainable business, while still developing local media talent, and sticking to their fundamental goal of informing, educating and entertaining.
Let's quickly consider some of the options.
How about new TV licensing models? It's apparent from recent media reports that NBC and SABC are seeing declining revenues from license payers. Are citizens averse to paying for their TV content, or is it just that they don't think local content is worth paying for? Should NBC be looking at bundling TV licence fees in with electricity bills, like South Korea?
Advertising. It's always been a struggle for public broadcasters in sub-Saharan Africa with the lack of audience measurement tools available for traditional broadcast. If we're looking at more digital channels (not just DTT), this may become an option. First, one would assume, the content needs to be good enough to get the eyeballs. The feeling was that work needs to be done here.
So how about exploring the Pay TV model? With VoD coming in strong, PBs may have to look at hybrid models, should funding start to dry up, just to survive. Perhaps that's a contradiction of the mandate to inform, educate and entertain. One would say this is far from a reality if the Namibian ICT Minister's comments are anything to go by, stating that "nobody should feel left out of the Namibian house."
As with so many of these conversations, it all begins with content. Content remains king (and queen) but PSBs in Africa don't do enough to produce and export. Year after year, African PSBs head to Cannes with their empty suitcase, and return with it full of international content. He rallied for African broadcasters to work with their local film makers, create better content that meets the international standard for sales, and gain recognition at film festivals globally.
Sally-Ann Wilson from the Public Media Alliance summed this up by stating that PSBs in Africa need to use their voices, embrace new platforms and tell the true stories of Africa to a global audience. For her, the mobile phone provides that platform, lowering the barriers of entry and empowering young African film makers to tell their story to the world.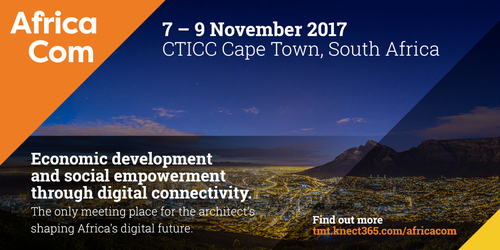 Discuss African broadcasting and content creation with those at the forefront of the sector at AfricaCom's TV Connect Africa, taking place 7–9 November 2017 in Cape Town, South Africa. Find out more about the TV Connect Africa agenda here.
TV Connect Africa is part of the AfricaCom delegate experience -- find out more about the delegate agenda here and purchase your pass here.
Be part of the African tech and telco conversation here:
Twitter
Facebook
LinkedIn
Instagram
— Chris Read, special to Connecting Africa