Mobile technologies and services generated US$110 billion of economic value in sub-Saharan Africa in 2016, the equivalent of 7.7% of the region's GDP*, according to a new report from the GSM Association (GSMA).
And, perhaps not surprisingly, the GSMA expects that figure to grow to $142 billion, or 8.8% of GDP, by 2020, it noted in the report, "The Mobile Economy: Sub-Saharan Africa 2017."
In addition, the "mobile ecosystem also directly and indirectly supported approximately 3.5 million jobs in the region [in 2016], and made a $13 billion contribution to the public sector in the form of taxation," according to the GSMA.
That economic activity comes after years of investment in the region's mobile networks: The GSMA estimates that mobile operators have invested $37 billion in their network systems during the past five years, with much of that investment focused on the deployment of new 3G and 4G infrastructure.
The Association estimates that about a third of mobile connections in sub-Saharan Africa were on 3G or 4G networks at the end of 2016, with that proportion set to rise to about 60% by 2020. "These new networks -- alongside rising smartphone adoption -- are driving demand for digital content and services," notes the GSMA in a press release about the report.
"As Sub-Saharan Africa transitions to higher levels of mobile engagement, underpinned by growing access to mobile data services and smart devices, we are seeing a flourishing mobile ecosystem emerge, supported by growing investments by operators and others in mobile-focused start-ups and tech hubs," noted Mats Granryd, director general of the GSMA. "Building this digital society requires collaboration between governments and the mobile industry to develop the policies and programmes that create the right incentives for innovation and an enabling environment for extending connectivity to all," he added.
The GSMA also estimates that the number of unique mobile subscribers (an individual who can account for multiple SIM connections) in sub-Saharan Africa will grow from 420 million (43% of the region's population) at the end of 2016 to 535 million (50% of the population) in 2020, growth that would make it the fastest-growing region in the world over this period.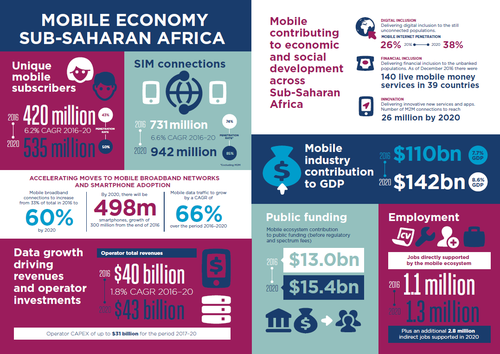 "Sub-Saharan Africa will be a key engine of subscriber growth for the world's mobile industry over the next few years as we connect millions of previously unconnected men, women and young people across the continent," noted Granryd. "Mobile is also offering sustainable solutions that address the lack of access to services such as health, education, electricity, clean water and financial services, which still affect large swathes of the population," he added.
Much of that subscriber growth is expected to take place in "large, underpenetrated markets such as the Democratic Republic of Congo (DRC), Ethiopia, Nigeria and Tanzania," said the GSMA, "which together will account for half of the 115 million new subscribers expected in Sub-Saharan Africa by 2020." It added that the growth will focus on "currently under-represented segments such as the under-16 age group, which accounts for more than 40% of the population in many countries, and women, who are currently 17% less likely to have a mobile phone subscription than their male counterparts."
According to the report's findings, mobile connectivity is playing a key role in "delivering digital and financial inclusion" in the region, with around 270 million people accessing the Internet through mobile devices, while 280 million people are registered for mobile money services.
*GDP contribution includes: direct ecosystem contribution (2.6%); indirect contribution (0.7%); and productivity improvements (4.3%).
— The staff, Connecting Africa