Mauritius has been ranked as the most competitive economy in Africa, according to the World Economic Forum's annual Global Competitiveness Report.
Unveiled during this week's World Economic Forum in Durban, South Africa, the ranking puts South Africa in second place and Rwanda third.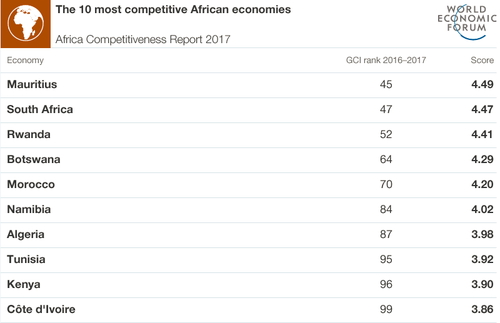 Factors such as the promoting a broad use of technology, improving transport systems and promoting improved health and education were all considered for the ranking, though the Forum noted that "the most important are those that enable people to find employment, travel to work and carry out their jobs."
The Forum noted that Mauritius has achieved the lead ranking because it has "removed the hurdles that prevent so many other countries from achieving prosperity; in this case, streamlining its goods market, building solid infrastructure and promoting a healthy workforce."
It also stated that South Africa and Rwanda performed well due to the "uptake of technology, efficient financial markets and a focus on strengthening institutions."
However, while Mauritius "ranks first among African countries, it is still only at No. 45 in the global index, a sober nod towards Africa's slowing productivity levels after a decade of sustained growth," added the Forum.
— The staff, Connecting Africa