Praekelt.org in partnership with Facebook is looking to partner with 100 software developers and social change organisations to provide mobile users in the developing world with free access to the internet through the Praekelt.org Incubator for Free Basics platform.
Launched at AfricaCom in November 2015, the programme is designed to help organisations create mobile websites and services for free, potentially reaching over a billion people, who otherwise wouldn't have access to the internet.
To participate in the programme, a non-profit organisation or government agency must have content that aims to improve people's lives and have mobile friendly content or content that is easy to convert into a digital form. Interested organisations are not required to have a technical background as they will receive training, technical tools and support from Praekelt. Applications close in seven days and organisations that meet qualifying criteria are invited to submit their applications before the 30 November deadline.
Since its launch, the programme has received thousands of applications and to date over 80 partners that have been selected by an external independent international selection panel following a rigorous evaluation process.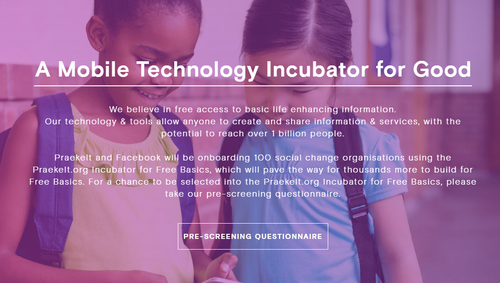 The organisations that have been accepted cover sectors including health, economic empowerment, youth, gender equity, agriculture, citizen engagement and education, and are based in different regions of Africa and Asia.
Some of the partners that have already gone live on the platform include HelpMeSee, which aims to eradicate preventable blindness caused by cataracts; Planned Parenthood and doctHERs – an online platform which connects female doctors in real-time to underserved patients and many more.
"Around the world, young people are paving the way for all of our futures. They need our help to grow into the healthiest generation ever," said Executive Director at Planned Parenthood Global, Latanya Mapp Frett.
"Global Mobile gives them what they need: information on relationships, their bodies and their health. And the Free Basics platform is the perfect tool to make sure that information is accessible, no matter where they happen to live," continued Frett.
The programme is currently live in over 40 countries through more than 50 mobile network operators on the Free Basics Platform with continuous rollouts ongoing.
"Praekelt believes that access to essential information and basic services is a human right. When people have access to the tools and knowledge that the internet and other digital communication technologies provide, they have access to opportunities that will make their lives better," said Founder and CEO of Praekelt, Gustav Praekelt.
Organisations that meet application criteria are invited to complete the application form or contact programme director, Kathi Wöhl, for more information.
— Sikhumbuzo Hlabangane, eHealth News