"Smart cities in Africa are inevitable" - Full interview with Nigel Bruin, Huawei
By Amy Turner - KNect354 Staff Writer

Here it is, the full interview with Huawei's Principal Consultant, Nigel Bruin.

We held an exclusive interview with Nigel following his Industry Keynote Address at this year's East Africa Com in Nairobi, Kenya.

We spoke about how National Broadband Networks are going to be the major linchpin for connectivity development on the African continent, including access to Cloud and IoT services.

Nigel discussed some international examples of National Broadband Network roll outs, in the continents of Asia and Australasia and how they have been successful in delivering ultra-fast broadband at affordable prices.

We went on to discuss whether a fully-realised, African smart city would arise in the near future. Nigel explained that this is almost a certainty as all cities will naturally become smart as they all face very similar challenges with regards to traffic congestion, as well as security and environmental concerns.



If you are interested in how tech and telco is enabling socioeconomic development and and innovation on the African continent, from the major players like Huawei, why not attend AfricaCom 2016?

Africa's biggest tech and telco event is taking place between the 14th - 18th November at the Cape Town ICC, find out more here.
You can sign up for a free visitor pass to the event here.
You can book your silver, gold and platinum AfricaCom tickets to all sessions here.


Pays $50 million deposit and prepares for full ownership of Nigeria's fourth mobile operator within 90 days.
Media reports of a lack of due process in the sale of 9mobile spell bad news for the Nigerian mobile operator.
Mobile towers company kills plan to float about 25% of the company's stock as speculation emerges of a potential M&A move.
Smartphone prices have dropped dramatically in Nigeria during the past few years, helping to fuel a surge in mobile user numbers, according to a new market report from e-commerce company Jumia.
South Africa's mobile data challenger Rain is preparing to launch its 4G services with a focus on making things simple for customers, notes the operator's CIO.
All resources

May 15-16, 2018, Radisson Blu, Nairobi Upper Hill, Kenya

July 10-11, 2018, Radisson Blu Hotel, Dakar Sea Plaza, Senegal

November 13-15, 2018, CTICC, South Africa
All Upcoming Live Events
Safaricom Spark Fund Portfolio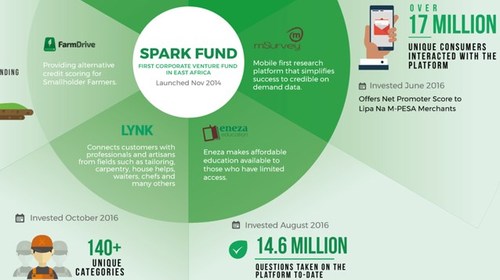 Infographics archive