Role of Big Data by Aliasgher Dalal, Director of Architecture – Data Analytics, Sigma Software Solutions
Big Data is garnering a lot of attention these days. The long-term value of big data with analytics is well understood and promises to capture a larger and larger share of business services. The billing systems appear to similarly benefit from the advent of big data. In fact, telecommunication systems, where large volumes of data are generated, are well suited for big data. Analytics play an important role in billing systems by providing insights into the operational, marketing and financial performance of the operator's system, allowing executives to make data driven decisions.
Marketing needs ways to generate a wide array of analytical insights rapidly on the fly and cost effectively. Traditional approaches using Data marts or Data warehouses fall far short of meeting these expectations.
The traditional analytics approach poses several challenges. For one, the traditional approach is bound by rigid data models requiring extensive data definitions. A typical process to obtain useful analytics in a traditional data mart solution is as follows:
·
Identify associated data source(s)
·
Develop ETL solution to ingest and populate
·
Develop queries to obtain analytics
In summary, the traditional analytics approach is inflexible, cost prohibitive (i.e. resource intensive), time consuming and out of synch with present day demands.
In addition, it is not suited to manipulate large amounts of data, especially if the analytics must be obtained on streams of real-time data compared to archived data.
On the other hand, big data offers capabilities that promise to handle these challenges effectively.
·
Ability to handle large volume of data – data approaching tera, peta, exa and zeta bytes are handled using big data technologies
·
Ability to handle real-time analytics – big data technologies like Spark can perform useful analytics on data in real-time.
·
Flexible and dynamic – non-traditional database with dynamic schemas and flat structures allow data from varied sources to be ingested and made available for analytics without having a clear understanding of specific use cases. The analytics can be run on data as use cases are identified. This is a very flexible and inexpensive approach to generate analytics.
·
Cost effective – initial data preparation work is substantially reduced thereby making the big data approach cost effective.
South African operator teams up with Microsoft to launch a range of Azure cloud services to enterprise users.
CloudFront, Amazon's content delivery network (CDN), now has a point of presence in Johannesburg.
Google says it will open a facility dedicated to artificial intelligence (AI) research and its applications in Accra, Ghana, later this year.
Chinese vendor Huawei has facilitated a US$200 million loan deal from Chinese financial institutions to help fund Telecom Egypt's 4G network rollout, including core and transport network technology deployments.
Mobile operator begins process that values the company at more than US$2.1 billion.
All resources

July 10-11, 2018, Radisson Blu Hotel, Dakar Sea Plaza, Senegal

November 13-15, 2018, CTICC, South Africa
All Upcoming Live Events
Safaricom Spark Fund Portfolio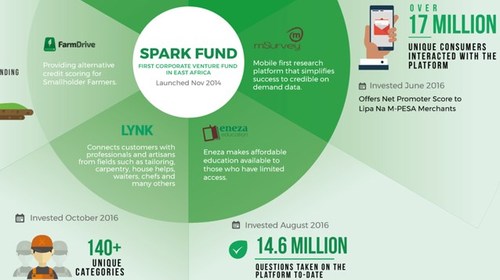 Infographics archive