Telecoms Academy Executive Training at AfricaCom 2015 - 16-20 November 2015, Cape Town

W
e are pleased to announce that Telecoms Academy will be running the Telecoms Mini MBA executive training programme alongside this year's AfricaCom 2015.
TELECOMS MINI MBA
16-20 November 2015, Cape Town at AfricaCom


The Telecoms Mini MBA is a 5-day university accredited telecoms management programme from the leaders in telecom training, analysis and research. The programme has been attended by over 5,000 professionals from 350 companies worldwide. Some of the leading operators, vendors, services, and regulators in the global telecoms industry have sent delegates to the programme.

It is highly participative, focusing on real business, technology and industry issues and designed to give you a critical understanding of the key competency areas required for success within the telecommunications industry – enabling you to make more informed and commercially viable strategic decisions. The business simulation is the vehicle through which we maximise the competency development and ensure ideas on strategic implementation can be tested and appraised.
The programme covers the five key competency areas of:
- Strategy & Business Environment
- Technology
- Finance
- Leadership & People Management
- Marketing & Customer Focus


We are also pleased to announce that Alan Knott-Craig Jr. will be guest speaker at the Telecoms Mini MBA. He will give a unique insight into what Project Isizwe does; how many people now have Internet access through it; who uses the Internet through its coverage and what they use it for; how the business model works; what the municipalities are charged; and his plans for rolling out outside of South Africa.
Africa's digerati are set to converge on the annual AfricaCom event in Cape Town once again to figure out the continent's connected future, analyse the potential of 5G, identify how IoT and smart cities could play a role in Africa's digital development… and much more.
Kenyan operator will work with Google's Loon to launch a 4G mobile broadband service in rural and suburban areas starting next year.
Mobile operator MTN may be considering pulling out of Liberia, Guinea and Guinea-Bissau, but may enter long coveted Angola and Ethiopia.
Speculation suggests Safaricom is about to strike a deal with Ethiopia's government to help introduce the M-Pesa mobile money and banking service to the country's 100 million-plus population and compete with existing player M-BIRR.
The telecom regulator of Chad has issued an invitation for tender to auction out a new mobile licence covering 2G, 3G and 4G.
All resources

September 19-20, 2018, Lagos Oriental Hotel, Lagos

November 13-15, 2018, CTICC, South Africa
All Upcoming Live Events
Safaricom Spark Fund Portfolio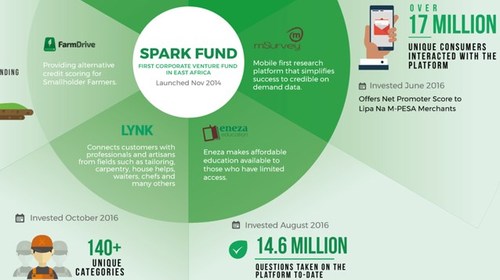 Infographics archive