Telecoms Academy Executive Training at AfricaCom 2015 - 16-20 November 2015, Cape Town

W
e are pleased to announce that Telecoms Academy will be running the Telecoms Mini MBA executive training programme alongside this year's AfricaCom 2015.
TELECOMS MINI MBA
16-20 November 2015, Cape Town at AfricaCom


The Telecoms Mini MBA is a 5-day university accredited telecoms management programme from the leaders in telecom training, analysis and research. The programme has been attended by over 5,000 professionals from 350 companies worldwide. Some of the leading operators, vendors, services, and regulators in the global telecoms industry have sent delegates to the programme.

It is highly participative, focusing on real business, technology and industry issues and designed to give you a critical understanding of the key competency areas required for success within the telecommunications industry – enabling you to make more informed and commercially viable strategic decisions. The business simulation is the vehicle through which we maximise the competency development and ensure ideas on strategic implementation can be tested and appraised.
The programme covers the five key competency areas of:
- Strategy & Business Environment
- Technology
- Finance
- Leadership & People Management
- Marketing & Customer Focus


We are also pleased to announce that Alan Knott-Craig Jr. will be guest speaker at the Telecoms Mini MBA. He will give a unique insight into what Project Isizwe does; how many people now have Internet access through it; who uses the Internet through its coverage and what they use it for; how the business model works; what the municipalities are charged; and his plans for rolling out outside of South Africa.
While the Indian market proves tough for Bharti Airtel, revenues from its African operations are up by more than 5% in the fiscal third quarter that ended December 31, 2017.
Regulatory process means identity of Nigerian operator's new owner will not be announced imminently.
Kenyan operators fined for poor quality of service while tax rates have been hiked for mobile operators in Chad.
Guy Zibi from Xalam Analytics takes stock of South Africa's proposed 4G wholesale experiment and how it could impact multiple markets.
The number of pay-TV subscribers in sub-Saharan Africa will grow by 74% between 2017 and 2023, according to a new forecast from Digital TV Research.
Thursday, November 16, 2017
2:00 p.m Cape Town / 1:00 p.m London / 8:00 a.m New York
FTTH rollout has accelerated across Africa, driven by increased availability and consumption of bandwidth-hungry content, from video streaming services to cloud-based enterprise applications. This webinar will provide an overview of key trends in this burgeoning sector, along with some perspective on the status of deployments, economic feasibility and competition with alternative broadband access technologies (mobile broadband in particular).
All resources
Safaricom Spark Fund Portfolio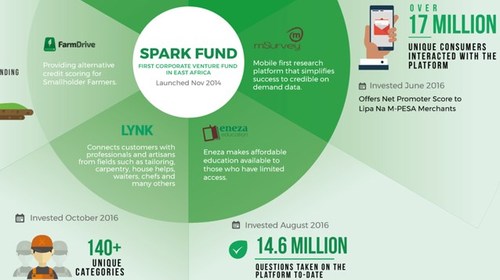 Infographics archive