One of the foremost telecom and technology events in the region, Nigeria Com, is a little over a month away and Connecting Africa has been catching up with the biggest thought-leaders who are driving the sector forward in the age of both the empowered consumer and the ever-changing economic climate.
Nigeria Com is proud to welcome the managing director of Smile Telecoms, Godfrey Efeurhobo, as a keynote speaker at the 2017 event. We caught up with Efeurhobo to talk about the rise of digital services, targeting growth in difficult socio-economic conditions and what delegates can expect from this year's Nigeria Com.
Can you tell us a bit more about the founding ethos behind Smile Telecom and the services it offers?
The founding ethos behind Smile is: "Everything is possible when done with integrity, humanity, humility and innovation, and with fun and energy," and this is translated into how we approach every aspect of our job, every service and product we offer, and how we deal with our customers, partners and our staff.
Smile provides 4G LTE mobile broadband services, with data speeds of up to 21 Mbit/s, in all its countries of operation. Our objective is to become the broadband provider of choice for SuperFast mobile broadband and SuperClear voice services in all our markets (Nigeria, Uganda, Tanzania and soon in the DRC) that our customers are able to fully benefit from the Internet world. Our intention is to ensure that each of our over 300 million potential customers have access to our fast, reliable broadband services and are able to use these to accelerate development and wealth creation.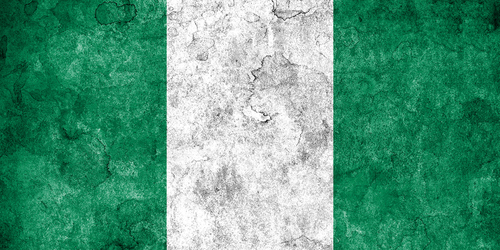 What do you consider to be some of the key recent economic opportunities that have arisen with the growth of digital services?
In recent years, Nigeria has earned a reputation as one of the fastest-growing economies in Africa and this is aided by the exponential growth of digital services which has created a vast array of economic opportunities in Nigeria. The digital economy is on an upward trajectory as it is fueled by the growing use of personal computing devices, enterprise computing capabilities and mobile Internet access. Digital economy is driven by more advanced digital technologies, notably wireless networks, mobile devices, positioning technologies (i.e., GPS), and the likes.
The growing use of these technologies, coupled with the increased usage of digital technologies in conventional commercial environments, has resulted in the convergence of digital and conventional economy. The core of the digital economy has transformed business interactions and transactions and has enabled innovations that fuel economic growth. New digital trends such as cloud computing, mobile web services, mobile money/mobile banking and social media becoming business media, are drastically re-aligning the business landscape, and reshaping/redefining the way we work, play and live.
These trends spur innovation in business models, business networking, the transference of knowledge and access to local and international markets. Growth of digital services has opened new frontiers in e-health, e-commerce, online banking and e-payments, e-learning, e-government and more, improving efficiencies, productivity and reach.
In your Nigeria Com presentation, you will discuss targeting growth in difficult economic conditions. To what extent are cost effective networks dependent on collaboration?
When the economic conditions are difficult, the customers expect more affordable services from the service providers. Under such circumstances, the service provider is tasked with searching for more innovative ways to offer more affordable services without undermining the quality of service. Collaboration/co-operation among the service providers through sharing of infrastructure both passive and active can help to reduce operating cost, increase focus on service differentiation improve operational efficiencies and productivity. By collaboration we mean not merely the sharing of towers but also sharing of other infrastructure -- fiber, bandwidth and even active infrastructure.
What are some of the challenges that are faced when a profitable niche is identified?
First, let me be quick to point out that our business model at Smile is highly scalable. We are constantly looking for opportunities to add value to our customers through innovation. We are swift in decision making and execution of strategies. The experience and vibrancy of our team come in handy in the entire cycle. Having said that however, we cannot turn a blind eye to the various market-related constraints which may indeed create additional challenges for us when it comes to execution. Key amongst these are: operating costs as it relates to the massive infrastructural deficit in the country forcing cost of access off the roof. An example of this are the charges and commercial terms from the InfraCos i.e. tower and backhaul providers. Furthermore, there is also the challenge regarding multiple taxation.

Delegates will be hearing you discuss the effect of growth in the sector. What work remains to be done to satisfy the digital consumer in Nigeria?
We are living in an age of the empowered consumer -- who demands hyper relevance ("Know me"), personalized relationships at scale ("Show me you know me"), seamless customer experience ("Delight me") and is inherently mobile ("Enable me") and as a result of this the digital consumer expects the same quality of experience which is ultimately judged according to the ease of usage and convenience, across all the services and products they utilize. To satisfy the digital consumer, the following needs to be addressed/expanded on:
i. Focus needs to be paid to the broadband expansion to underserved areas as propounded by the listed actions in the National Broadband plan. This will stimulate social and economic activities and will be an indicative step towards achieving the above.
ii. Enhanced foreign exchange liquidity for the telecommunications industry in order to provide support for capital expenditure which will in turn spur the telecom operators to invest in network expansion.
iii. Palliatives and concessions to encourage investment and rollout in underserved communities to bridge the digital divide This is the time for the government to start looking at stimulating the industry and by focusing on the above and indeed much more, it will be feasible to achieve the Government's goal of 30% broadband penetration by 2018 with broadband speeds of at least 1.5 Mbit/s.
What has Smile Telecom been able to achieve with regards to facilitating superfast mobile broadband in Nigeria?
Smile is the first telecom operator in Nigeria to introduce 4G LTE Internet services with full mobility, currently in eight key cities in Nigeria with plans to rollout to other Cites. Smile has been living its promise of speed, quality and reliability to its customers. Through our CSR platforms we have been able to extend broadband services to a number of schools to facilitate learning. We have been successful in providing Internet service that is high quality, affordable and reliable, coupled with the fact that the Smile network propagates on 800MHz, band 20 which ultimately provides our customers with wireless broadband services, high-speed data and super-clear voice services.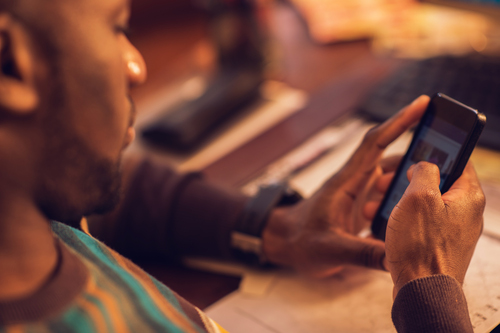 What are Smile Telecom's plans for the future?
Smile's plan for the future is to become the broadband provider of choice for SuperFast data and SuperClear voice in the telecom market and to provide over 300 million potential customers in our four countries of operation with fast, reliable and high-quality services that all people can fully benefit, and to accelerate development and wealth creation. More specifically, in Nigeria our intent is to roll out quality and reliable broadband services across the 36 states of the federation.
8. What are you most looking forward to about Nigeria Com?
Nigeria Com has created a stage that will provide the telecom industry with the opportunity to interact with industry thought-leaders and also provide the tools for networking.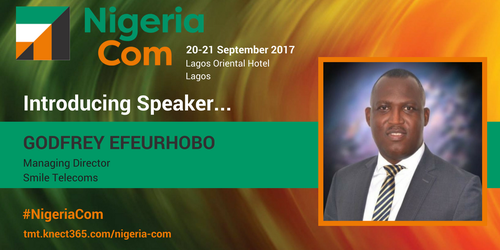 Nigeria Com is taking place between September 20-21 at the Lagos Oriental Hotel, Lagos. Find out more about how Nigeria Com is strengthening the networks and ICT of "Digital Nigeria" here.
View the Nigeria Com agenda and speaker line-up here and book your delegate pass here. Be part of the African tech and telco conversation here:
— Amy Turner and Rachael McKie