The number of fixed broadband connections grew by 5% quartyer-on-quarter (QoQ) during the third quarter of 2017 thanks mostly to uptake of services in Ghana and Kenya, according to statistics from analyst house Point Topic.
In its latest report on the global fixed broadband market, World Broadband Statistics – Q3 2017, the Point Topic team notes that "The highest growth QoQ was recorded in Africa, Asia, and Oceania, as these regions with high growth potential continue to embrace new broadband technologies."
In Africa, the number of fixed broadband connections grew by about 5% compared with the end of the second quarter (June 2017): Connecting Africa's calculations, based on Point Topic's total global growth numbers for the third quarter, suggests that about 521,000 broadband lines were added during the third quarter, taking the total to about 10.9 million across the continent.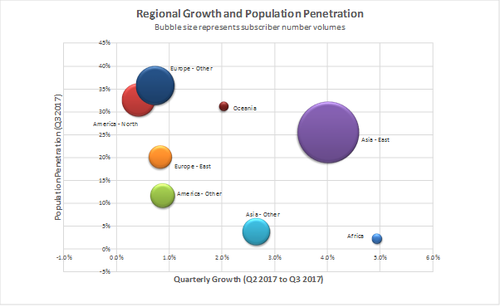 In total, about 21.27 million broadband lines were added to the worldwide total during the three months from July to September 2017, taking the total number of broadband lines globally to 913.35 million.
— Ray Le Maistre, Editor-in-Chief, Light Reading for Connecting Africa